Here are the recipes from yesterday's lunch with friends.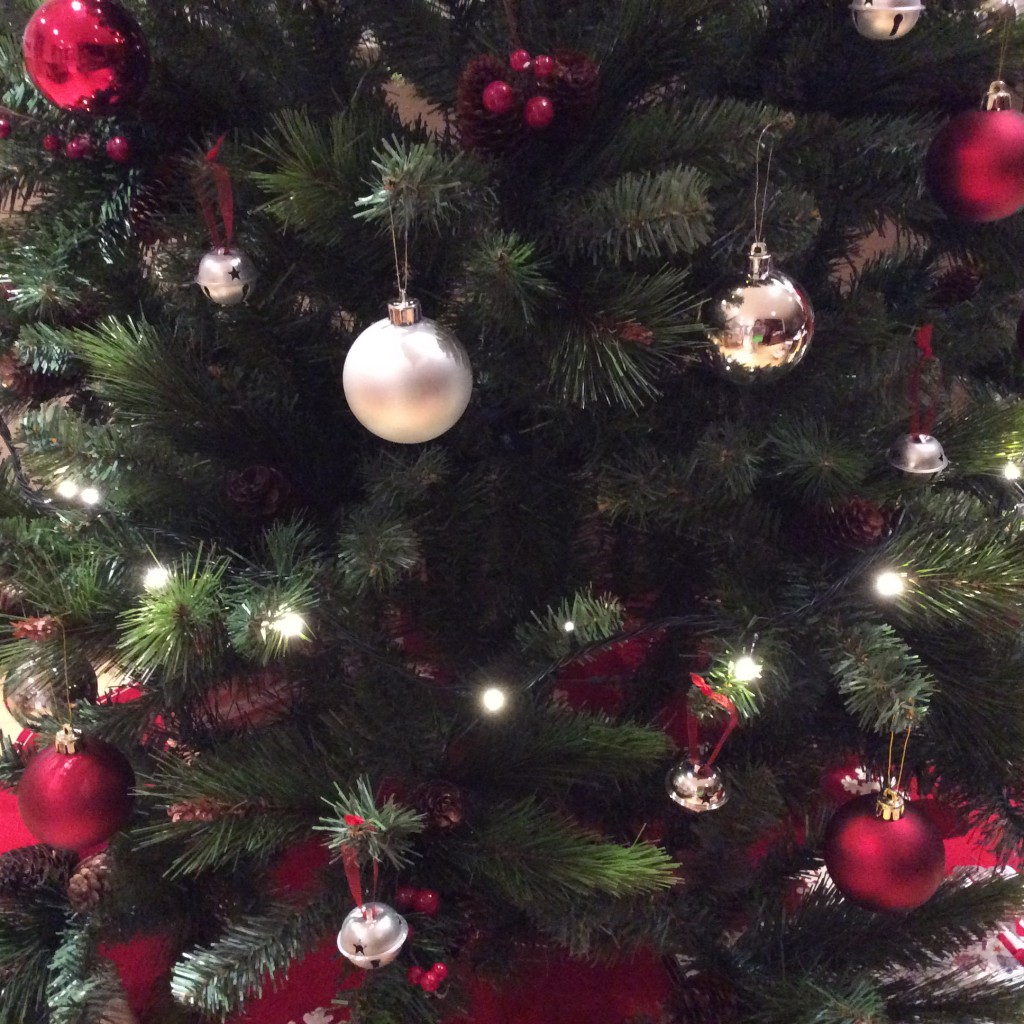 There were seven of us and fortunately we were of the same mental age.
Let me explain. Last night Mr Gochugaru and I started a new Korean Drama. Scouring the annual lists of best  K-Dramas of 2015, Kill Me, Heal Me (킬미, 힐미) was highly recommended. The story is similar to Hyde, Jekyll, Me (하이드 지킬, 나) which we so enjoyed earlier in the year.
In both stories the main character has dissociative identity disorder. In layman's terms, this means that under certain circumstances that trigger an emotional change, a different character reveals himself and takes over the life of the main character. This is as simply as I can put it in my own words. Just think of the Incredible Hulk: Don't make me angry…You wouldn't like me when I'm angry.
After giving it two hours of our time, we cannot continue with this drama. The acting is unfocused, the soundtrack reminds me of the Tom and Jerry cartoons and the storyline is simply too bizarre. Believe me, we can do bizarre (going back in time in Rooftop Prince, swapping bodies in Secret Garden and loving an alien in My Love from the Star). But having seven different personalities?
William Shakespeare in As You Like It has this to say about the seven stages of a man's life:
All the world's a stage,
And all the men and women merely players;
They have their exits and their entrances,
And one man in his time plays many parts,
His acts being seven ages.
Thus the stages start at infancy, take in youth and middle-age, and finally end in old age. To have seven different personalities (in Kill Me, Heal Me) each with different age profiles, in one body at one time, was simply a step too far for me. Mr Gochugaru needs to find a new drama double-quick, but I can see he is distracted by the GCHQ 2015 puzzle.
Whilst that is happening I have time to write up the recipes for the baked parmesan chicken with gochujang mayonnaise, and red cabbage and apple salad. Each of these recipes will serve eight people. The banana and walnut cake is here but there were some slight changes so I will write this up again in a separate post.
For the Chicken:
1 kg chicken thighs, skinless and boneless
100 g plain flour
1 teaspoon salt
½ teaspoon ground black pepper
½ teaspoon garlic powder
2 eggs, beaten
100 g fresh white breadcrumbs
100 g grated parmesan cheese
olive oil
You will also need a large baking tray, enough to hold the chicken in one layer.
How to Make:
Preheat the oven to 180°C/ 350°F/ Gas 4. Pour a generous amount of oil on the baking tray.
Prepare three bowls. In the first bowl, mix together the flour, salt, pepper and garlic powder. The eggs will be in the second bowl. Mix together the breadcrumbs and parmesan in the third bowl.
Dredge the pieces of chicken through the flour mixture, then dip each piece into the egg and then finally coat in the breadcrumb mixture.
Lay each piece of chicken on the baking tray. When the process is completed, drizzle more olive oil all over the top of the chicken.
Bake for around one hour, turning the chicken pieces after half an hour so both sides get to crisp up.
For the Gochujang Mayonnaise, simply measure out and mix together the following:
100 g Kewpie brand mayonnaise
2 teaspoons gochujang (Korean red pepper paste)
1 teaspoon gochugaru (Korean red pepper powder)
1 teaspoon apple vinegar
1 teaspoon maple syrup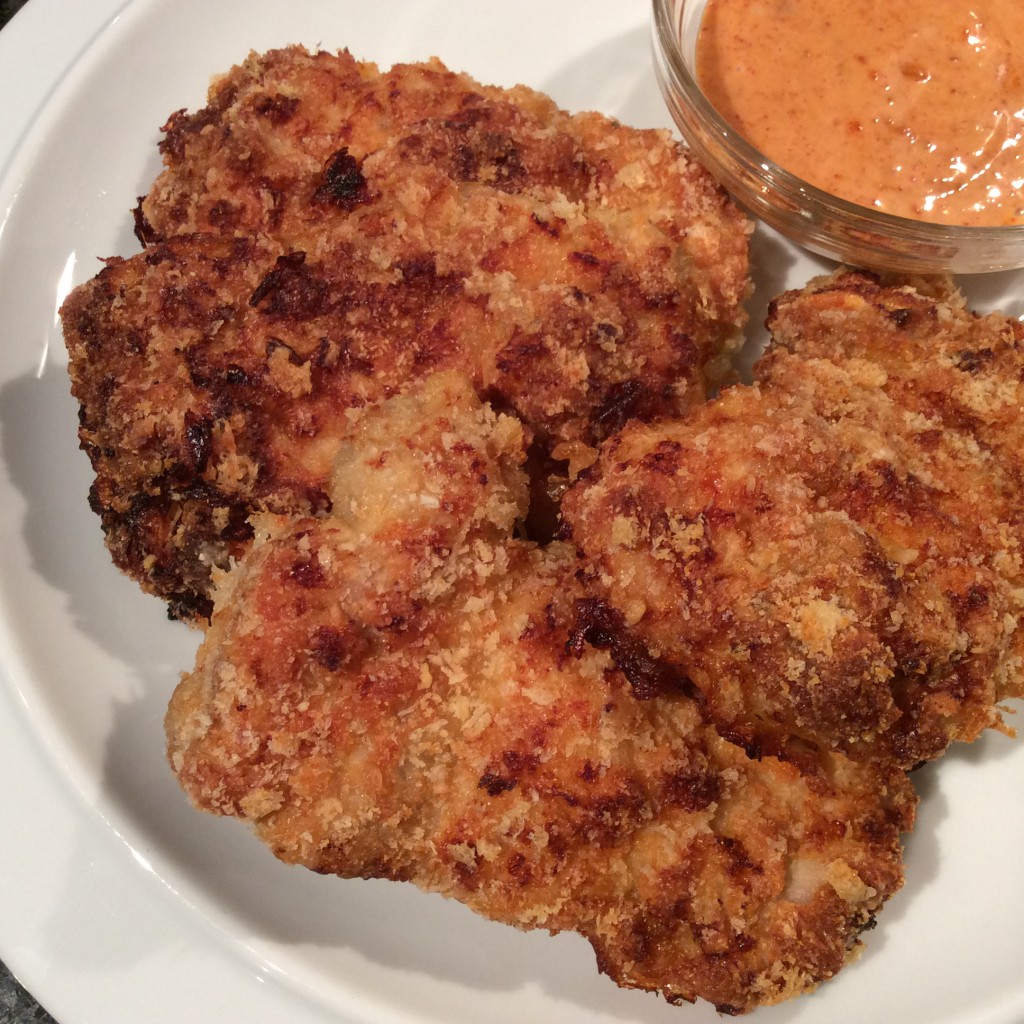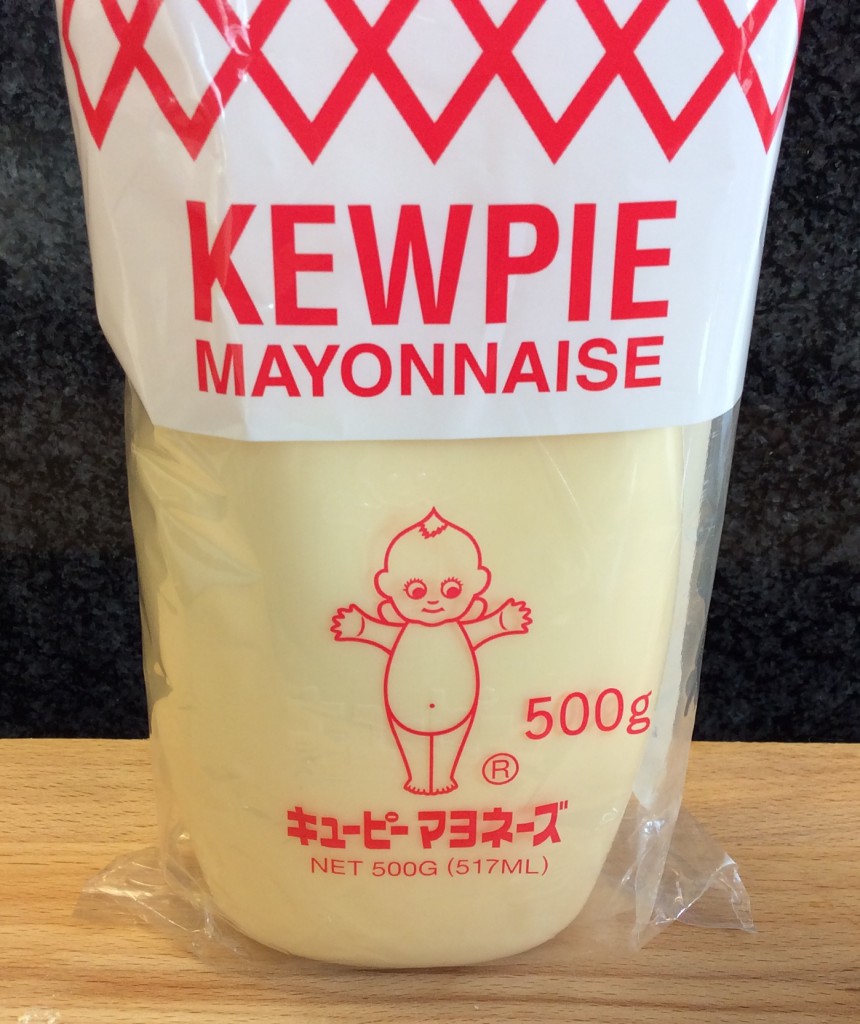 Red Cabbage and Apple Salad:
280 g red cabbage
180 g savoy cabbage leaves, centre stem removed
50 g fresh mint leaves
2 red or green apples
100 ml fresh lime juice
3 tablespoons maple syrup
2 tablespoons toasted sesame oil
2 tablespoons light olive oil
2 teaspoons soya sauce
How to Make:
Finely slice the red and savoy cabbages and the mint leaves.
Peel, core and finely slice the apples.
In a small pot, boil the lime juice with the maple syrup until it reduces to 3 tablespoons (45 ml). Leave to cool.
Add the sesame and olive oils and soya sauce, give it a good stir and then pour over the salad.
The red cabbage leaches a beautiful red colour over the apples which makes this salad so suitable for Christmas. Thinking about it, we should add some toasted pecan nuts on top of the salad too.