Gochugaru Girl and her Bible Study Group are having dinner together tonight.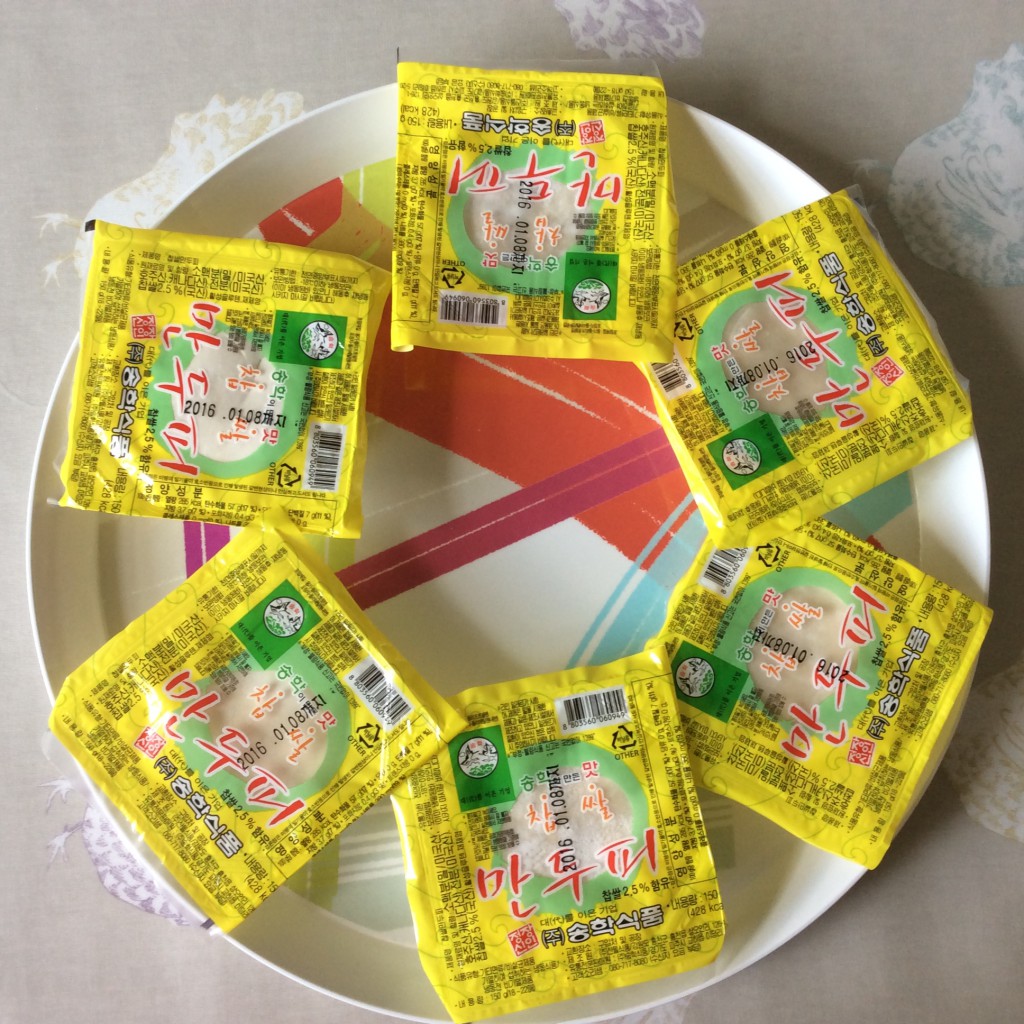 We are going to kick off with a dumpling making session.
In thinking of a communal meal I came across a couple of recipes on the notice board that I have yet to post. The truth is, most of us eat up to three meals a day but there is usually time to write about one (at most). This is one of the reasons many people blog about their meals through photos: a picture paints a thousand words.
However, I believe there is still merit in writing – whether this is in the form of keeping a journal, preparing study notes or recording the ingredients and method of a favourite recipe.  This keeps the mind active which has a large role in preventing the onset of dementia. The Alzheimer's Society says:
It also seems that keeping socially and mentally active into later life may help lower the risk of dementia. Being socially active could include visiting friends or going to a place of worship, while being mentally active could include doing puzzles or reading.
If this is the case, having a Bible Study Group which meets regularly ticks all the right boxes. This evening, we are going to make oriental dumplings. The idea is to make the dumplings then fry them for our starters. The main course of fried noodles and Korean beef stew can be made ahead of time and only require reheating. The ladies are bringing dessert and most importantly, their excellent company.
(Post-dinner): Here is the recipe for the dumpling filling, and the recipes for the noodles and beef stew will be posted later. We made three times this amount tonight; in total we made about 180 dumplings and ate 80% of these for dinner. There were 10 of us and if you did not get the answer to Cheryl's birthday then you can work out this new and simpler puzzle of 'how many dumplings did each of us eat?'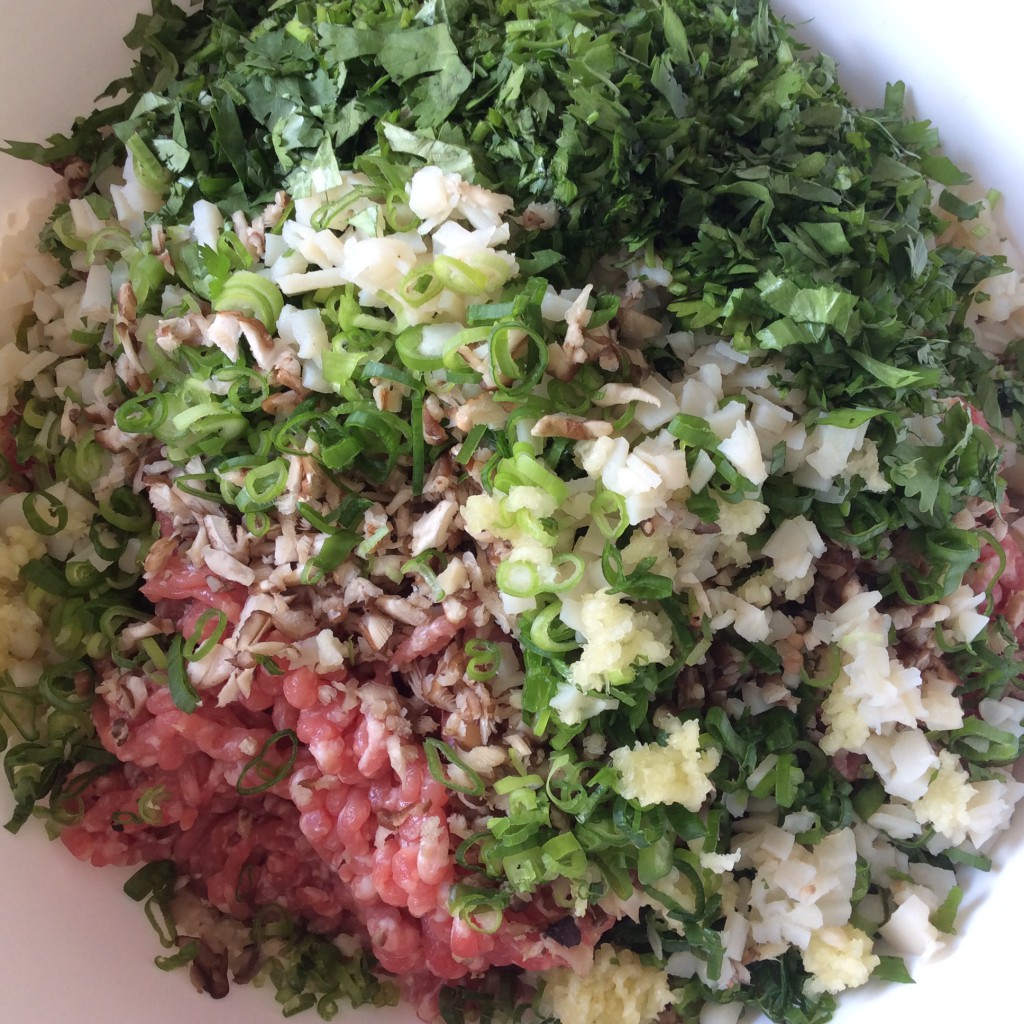 For the Dumpling Filling:
500 g minced pork
100 g fresh shitake mushrooms, stalks removed and chopped finely
225 g tinned whole water chestnuts, drained and chopped finely
2 stalks spring onions, sliced thinly
20 g fresh coriander leaves, chopped finely
2 cloves garlic, chopped finely
1 tablespoon soya sauce
1 teaspoon salt
½ teaspoon ground white pepper
¼ teaspoon sugar
Around 60 – 70 frozen or fresh dumpling skins (round shape, 5cm diameter)
1 teaspoon of cornflour and 2 tablespoons of water, for sealing the dumplings
Sunflower oil, for frying the dumplings
Sweet chilli sauce or chilli oil for serving
You will also need a non-stick frying pan with a lid, and a tray lined with greaseproof paper to place the completed dumplings on.
How to Make:
Defrost the dumpling skins if they are frozen.
Place all the dumpling filling ingredients in a large mixing bowl and, using your hand, mix everything up really well.
Pick one dumpling wrapper and place flat in the palm of your left hand.
Using a pair of chopsticks, and using your right hand, pick a small ball of the pork filling and place this in the middle of the dumpling wrapper.
(Reverse the hands if you are left-handed).
Dip your right hand index finger into the cornflour solution and wet half the rim of the dumpling skin. The cornflour sinks to the bottom so you need to agitate the water a bit each time you dip your finger in.
Proceed to make the dumpling.
Easiest method: Fold the dumpling in half, sealing the edges tightly. Place on the tray until you are ready to fry them.
More challenging method: This will take some explaining so I will take some photos with step-by-step instructions and post this within the next two weeks. We used all eight packets of the dumpling wrappers and I need to top up supplies. However you can see the photos of our dumpling making session below.
Spot the difference: Our four rounds of dumplings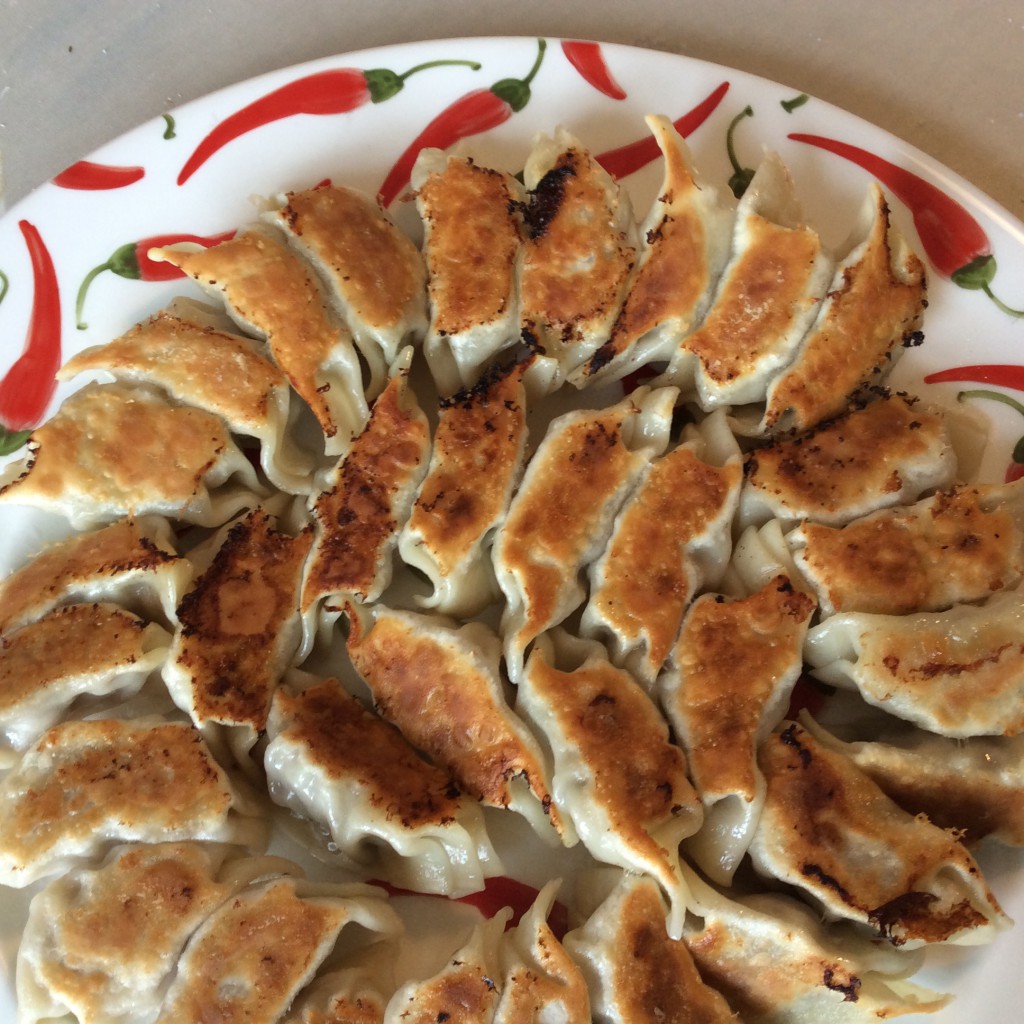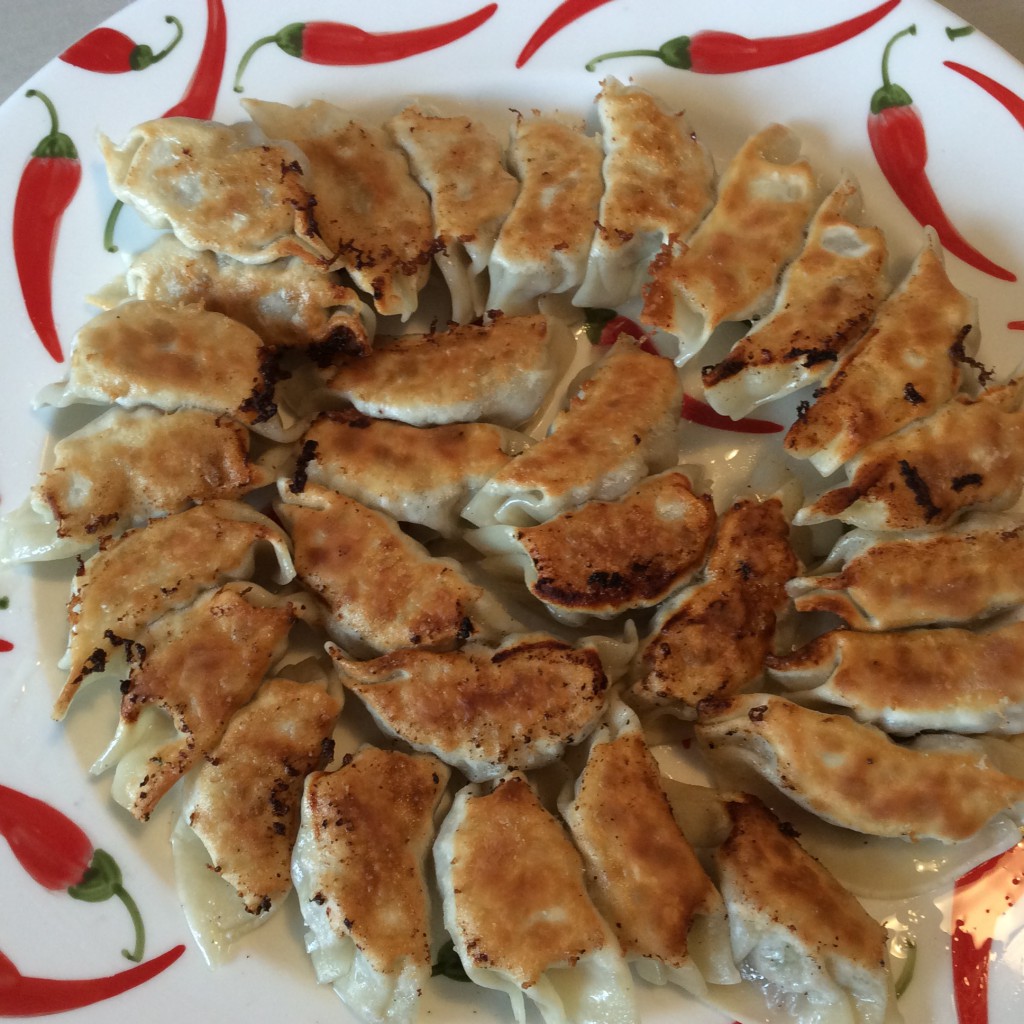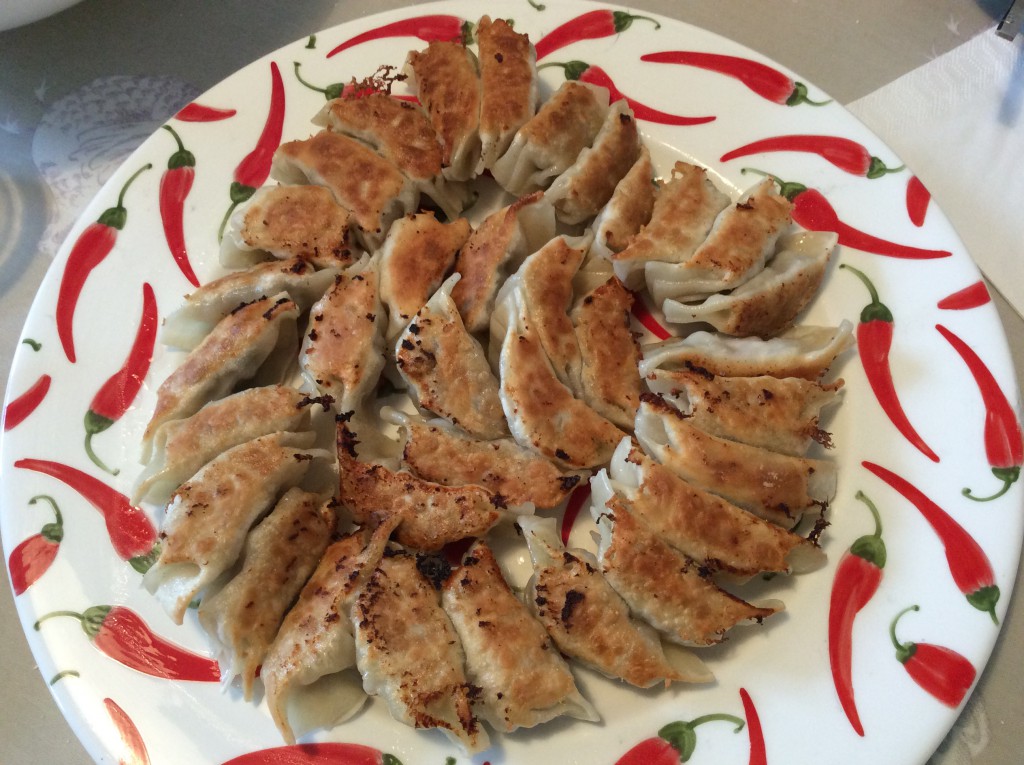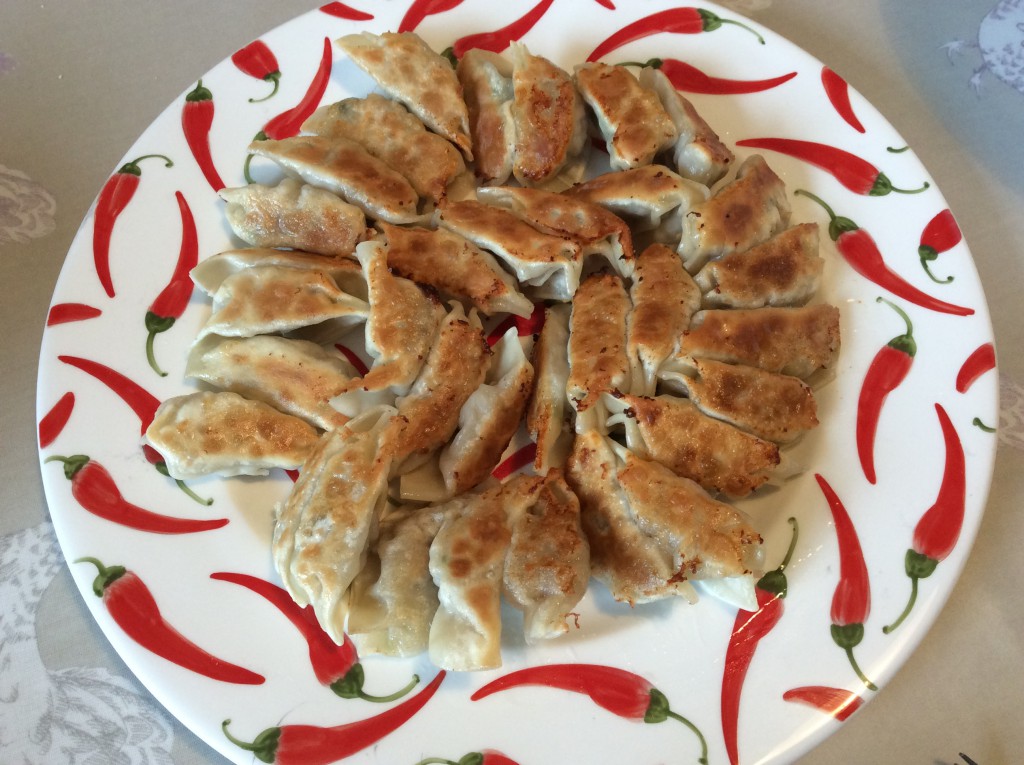 Thank you ladies for a GREAT evening, and thank you Mr Gochugaru for taking care of the children (they went to eat Korean food at Bibigo).