This is a continuation of the post on eating out in Shanghai which began with xiao long bao.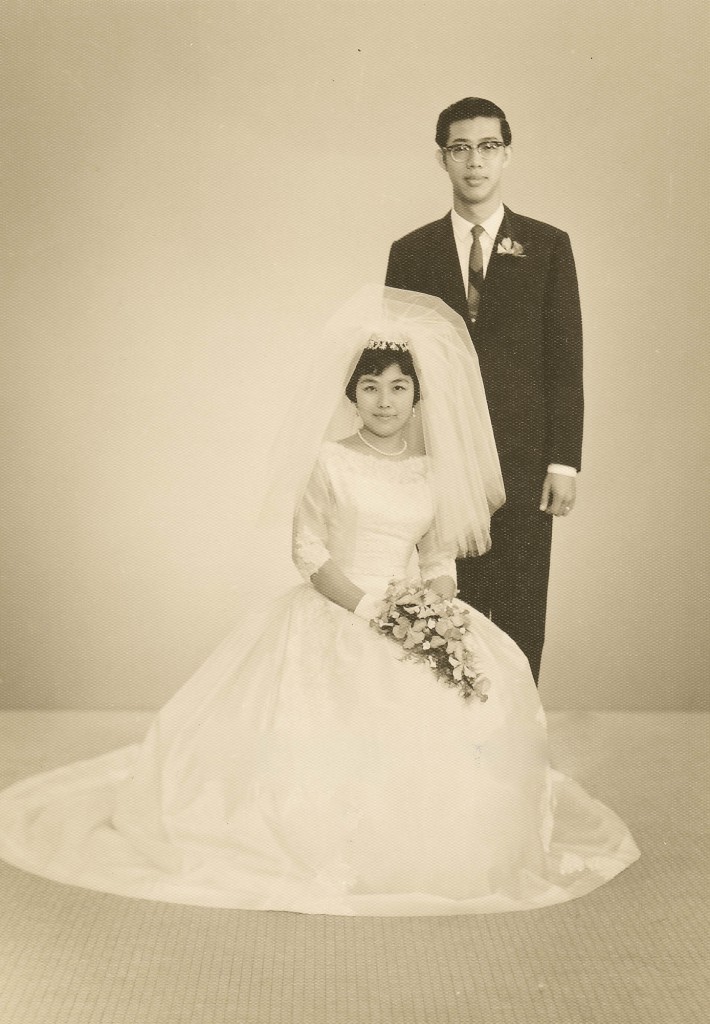 A bit about my family: my parents were born at a time when Malaysia was still known as Malaya. My father's father spoke Cantonese and his mother spoke Hokkien. My mother's family spoke Hakka. The extended family came from distinct parts of Southern China, but none were from Shanghai.
My mother, her mother and sisters cooked mainly Hakka dishes. I did not have any exposure to Shanghainese food when I was growing up, and as I rarely eat in Chinese restaurants here in London, I wouldn't know where to start.
It was fortunate that our first dinner in Shanghai was taken care of by TK, with whom we have been friends since we met in our first year at the University of London.
The ambience and welcome in Shanghai Chic was very good and the food was outstanding. It would have been rude to our host to take photographs of the dishes but the menu is presented as a photo album. It helpfully lists one dish per page, in Mandarin and in English, with an accompanying photo of each dish. What to to order: red braised pork/ hung shou rou, xiao long bao, sheng jian bao, fried string beans, fried yellow croaker fish, crabmeat with tofu and anything else that you like the look of. The meal was memorable for Junior 1 as the waitress assumed he was of drinking age and he had his first (Tsingtao) beer.
Dinner on the second night was a stab in the dark, because our strategy centred on the fact that in the Far East, so many restaurants are located on dedicated floors in shopping malls. Finding ourselves on Nanjing Dong Lu at dinnertime, we looked at the bright advertising signs just outside the Metro Station (there is a shopping mall above Exit 2 of Nanjing Dong Lu station) and headed for our second Shanghainese restaurant. I don't have the name of the restaurant. The food here was more oily than Shanghai Chic's but we are told it was more typical of what everyday Shanghainese food is like.
Red braised pork/ hung shou rou/ 红烧肉
One memorable feature of this restaurant (for me) was the plastic tablecloth with a raised lacy pattern, something I had not seen for well over 30 years. I used to go shopping with my grandmother in Petaling Street, in Kuala Lumpur's Chinatown, and she would go to a particular shop where the shopkeeper cut a length of plastic cloth that would comfortably fit her small rectangular table. On days when my help was not required in her kitchen, I could place a sheet of blank paper on top of the lacy pattern and trace it out with a crayon. My penchant for plastic tablecloths hark back to those childhood days, for its practicality in ease of cleaning. However Mr Gochugaru said to me just last night that, with the children grown up, it is time to return to real tablecloths. I thought that was possible provided I didn't have to wash and iron one cloth a day.
Pan-fried buns/ sheng jian bao/ 生煎包
Dinner on the third night was not Shanghainese but Korean. Better still, it was the restaurant of Jean‑Georges Vongerichten and his Korean-American wife Marja. I will write about why I am a fan in another post.
On the whole, London is so full of celebrity chefs that you get a bit blasé about chasing another meal in another Michelin-starred restaurant. It follows that I would not want to dine at one of Jason Atherton's outposts in the Far East (although for the record, I have met him, he is a real gentleman and we attend the same church).
However, Mr Vongerichten has no restaurant in London. Also, CHI-Q's location on the Bund helped us tick one of the boxes of our Shanghai To Do List (Number 5: eat in a restaurant with a Bund address).
At the end of the meal, the Korean chef Bina Yu came round to ask if we had enjoyed our meal. Of course we did. In fact, if I had the time this week I would be flying to Shanghai as Bina and Marja are giving a kimchi-making lesson at the restaurant (Friday 05 December).
Photos of some of the dishes we ate follow below. I would have returned the night after for the desserts alone, and Junior 3 would have returned to have another glass of makgeolli/ 막걸리 which is a liquor made from rice.
Mixed Greens Salad with Carrot-Ginger Dressing
Crispy Kimchi Pancakes, Scallion Dipping Sauce (L)
Silken Tofu Scented with Lemon, Crushed Nuts, Herbs and Chili (R)
Salt and Pepper Calamari, Yuzu Dipping Sauce
Korean Fried Chicken Wings, Spicy Honey Glaze
Pork Barbeque
Bibim Bap – Rice topped with Vegetables
Desserts: Ice Creams and Fresh Berries with Ginger Granite and Vanilla Meringue
Seeing the sights is a fulfilling activity, but weariness sets in after a day of traipsing around parks and museums, so on our last night night in Shanghai we dined-in. The Executive Lounge at our hotel provided a generous spread at tea time and you just eat, drink and watch the sun set until you are ready to pack your bags. Granted, the night is still young (we are still young) but there is an early flight to catch to Hong Kong in the morning. Shanghai is like London: so big, so much to do, so many reasons to return one day.
Addresses:
Shanghai Chic
English address: Fifth Floor, Xiang Gang Mingdu, 489 Henan Nan Lu, near Fuxing Dong Lu, Huangpu district
Chinese address: 上海会馆,黄浦区河南南路489号香港名都5楼,近复兴东路
Telephone: 6335 7779
Metro: Laoximen
CHI-Q
English address: Second Floor, Three on the Bund, 3 Zhongshan Dong Yi Lu, near Guangdong Lu, Huangpu district
Chinese address: 黄浦区中山东一路3号2楼,近广东路
Telephone: 6321 6622
Metro: Nanjing Dong Lu
Before you leave for Shanghai, it is worth reading:
Time Out's Shanghai Restaurant Guide