Berliner Tagebuch: Donnerstag 8 Juni 2023 / Berlin Diary: Thursday 8 June 2023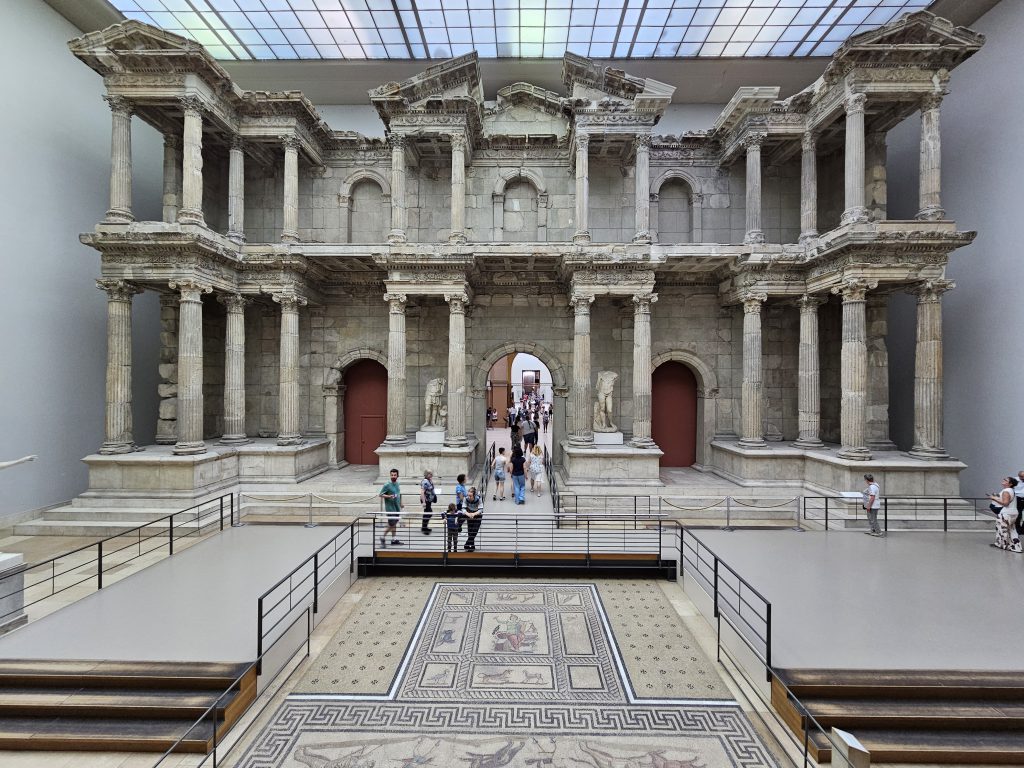 The first of three days visiting some of Berlin's renowned museums. We're still getting to grips with the extensive transport system, but managed to get to all the places on our list. Before you read on, please see here for details of the transport and museum passes we used for this Berlin trip. All information correct as of June 2023.
Frühstück und Morgenaktivität / Breakfast and Morning Activity
The Barn Coffee Roasters, Alte Potsdamer Str. 5, Berlin 10785. Great coffee and croissant but the entire area, like many parts of Berlin, is a large building site. There is another branch on the opposite side of the road (see next post). The Playce shopping mall is close by, which has a few shops, a supermarket and a surprisingly large gelato shop. This was shut so I added it to another day's list.
This morning we visited two of the museums within the Kulturforum complex, which is located near to Potsdamer Platz: first, the Neue Nationalgallerie, followed by the Gemäldegalerie. We saved the Kunstgewerbemuseum for another day.
Top Tips: 1) get a museum pass and try to pre-book at least the first museum visit of the day, as there is always a queue to get in at opening time. 2) Rucksacks and larger handbags are not allowed in the galleries and museums. Some places have manned left-luggage counters. For the others, you need a one euro / two euro coin to use the garderobe/ locker.
The Neue Nationalgallerie's museum building and sculpture gardens were designed by Ludwig Mies van der Rohe. I should have taken a photo of the entrance lobby, which is filled with a row of instantly recognisable Barcelona Chairs. Photos below are from Gerhard Richter: 100 Works for Berlin, one of its current exhibitions.
The Sculpture Garden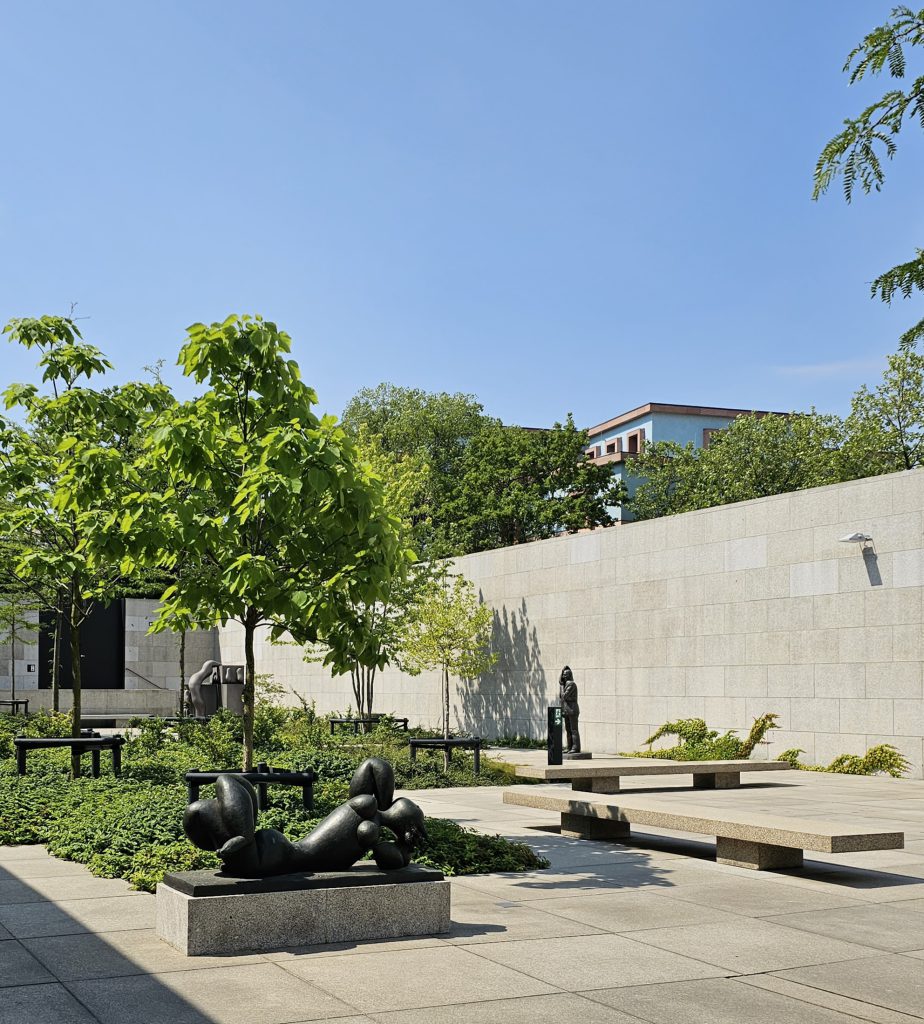 Where have I seen this before? 4900 Colours (excerpt) reminded me of Elmer the Patchwork Elephant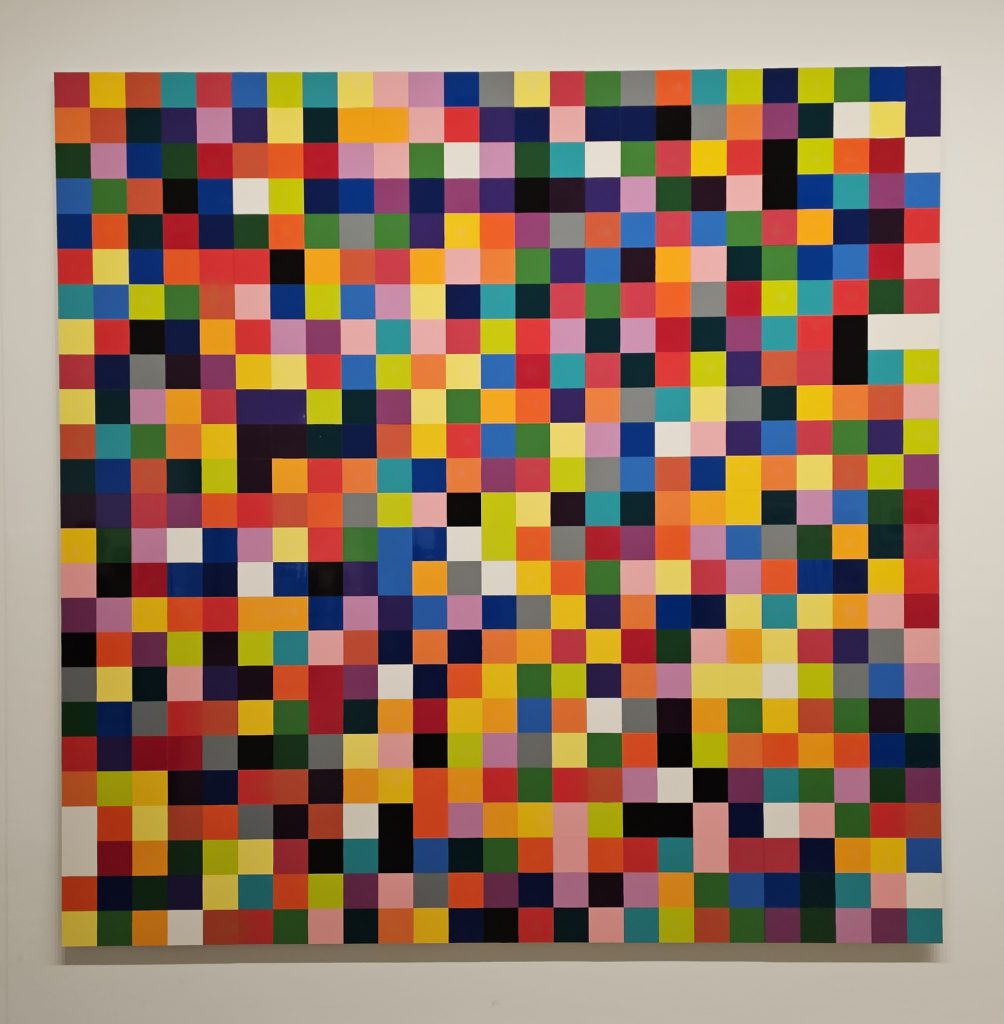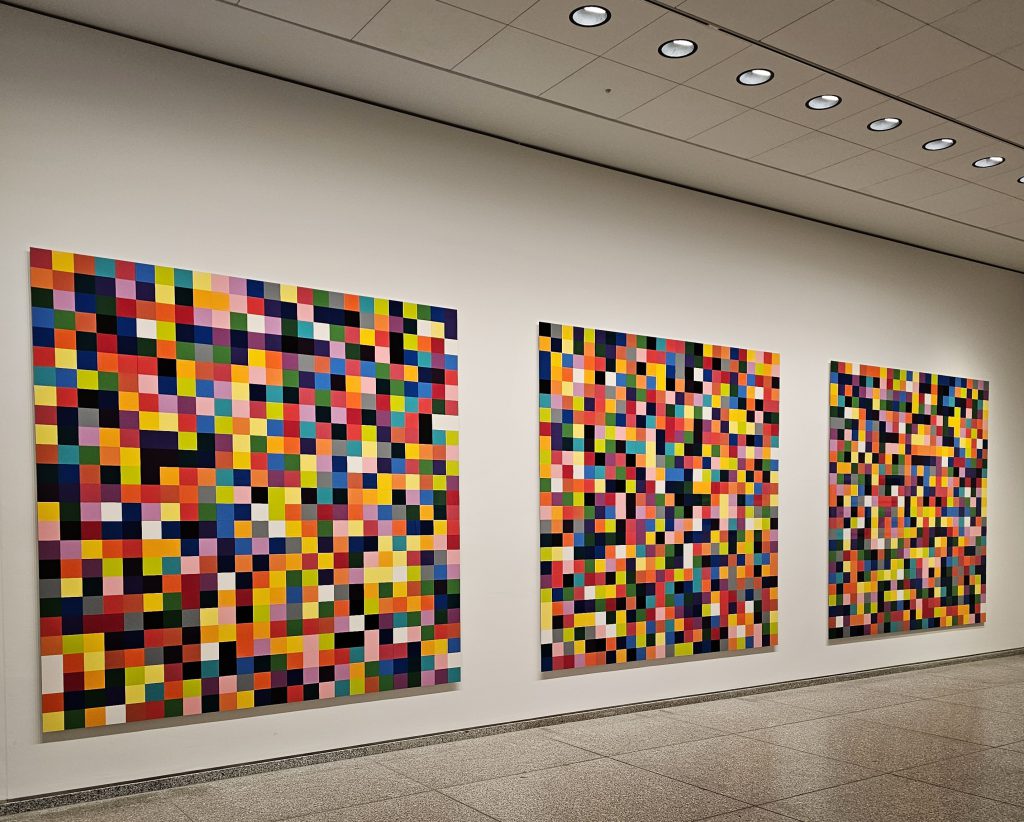 Strip, 2013 / 2016 reminded me of British designer Paul Smith. If the lines were zig-zagged I would have thought of Italy's Missoni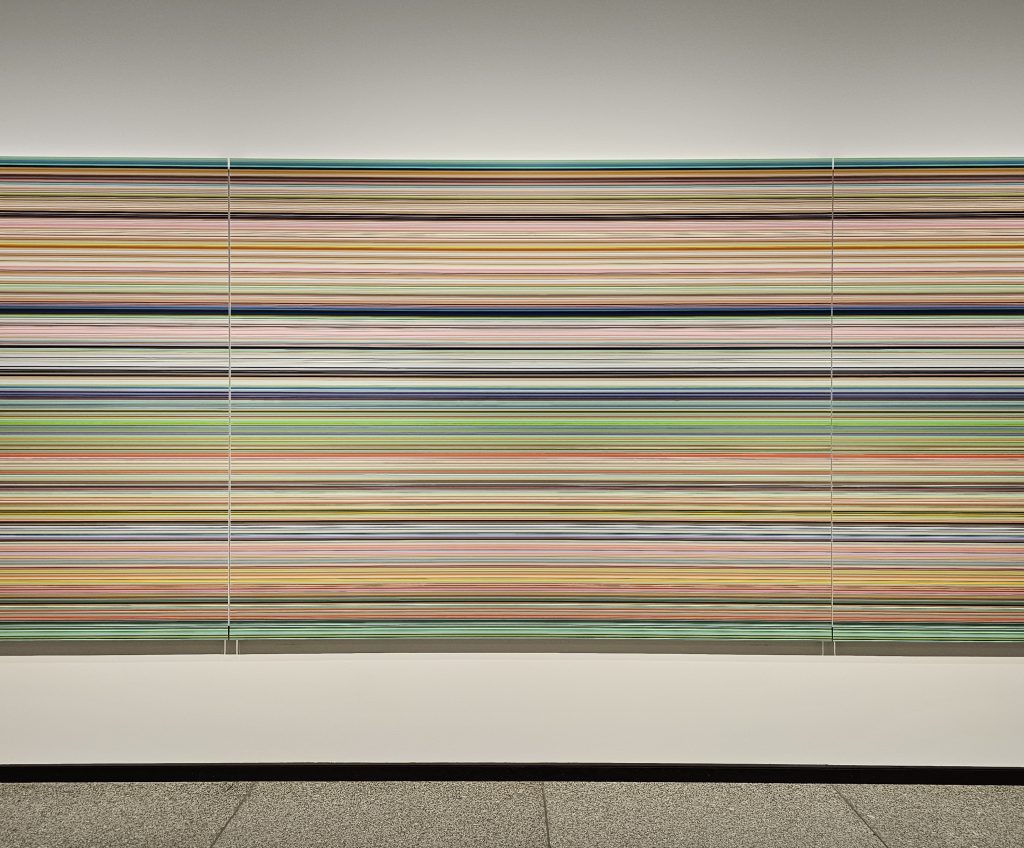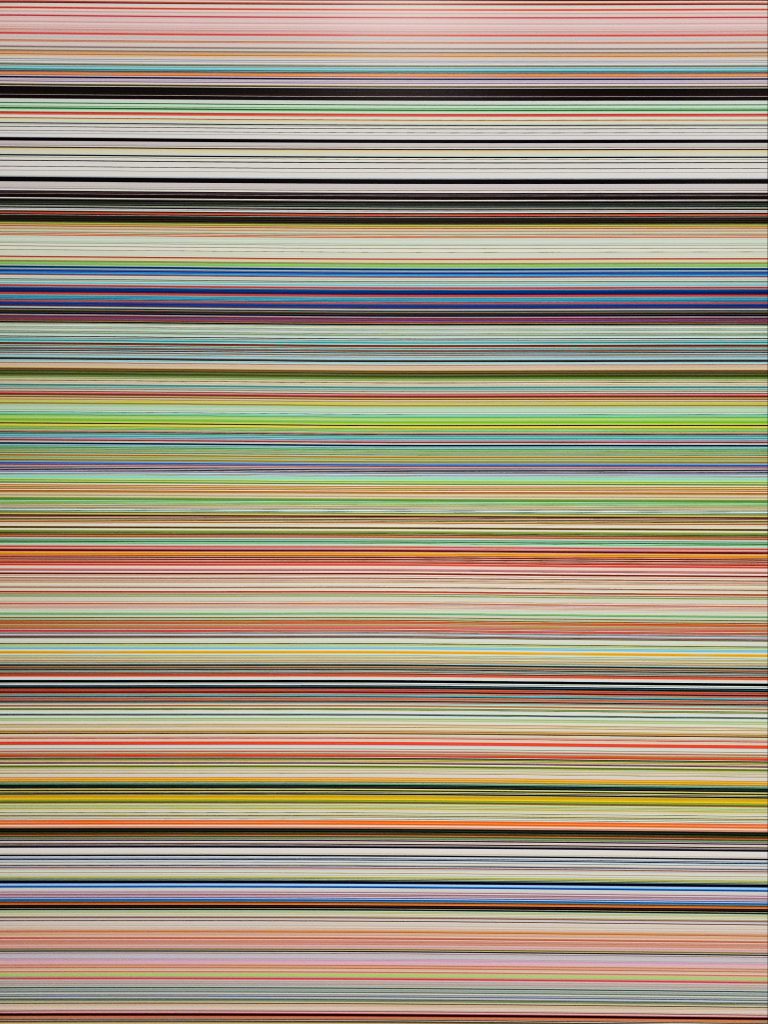 One of Mr Richter's large abstracts: do you see Monet's water lily pond in this somewhere?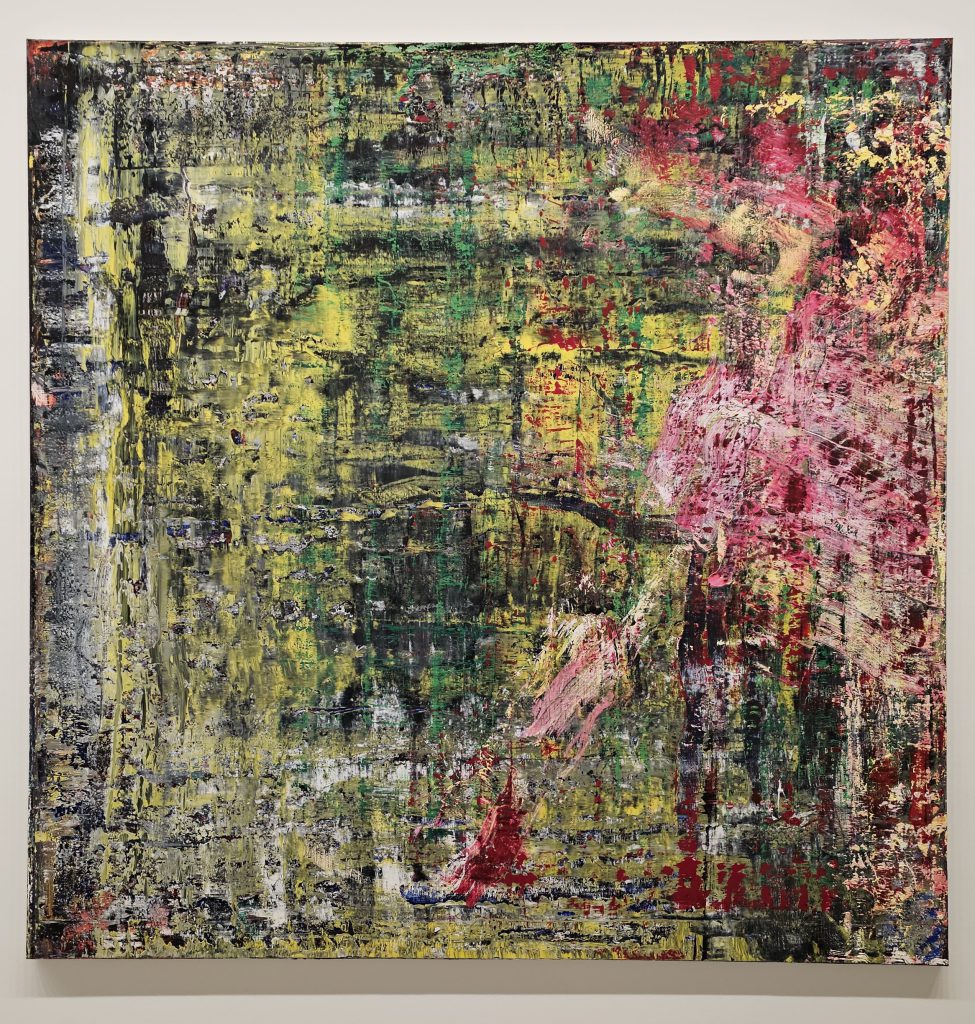 From modern to traditional: our next stop was to the Gemäldegalerie to view its hefty collection of 13th to 18th century European paintings. There are many masterpieces to behold and, unlike London's National Gallery, it is not crowded and you get to view each painting properly. However there is an entrance charge, which is largely negligible if you make good use of the Museum Pass Berlin.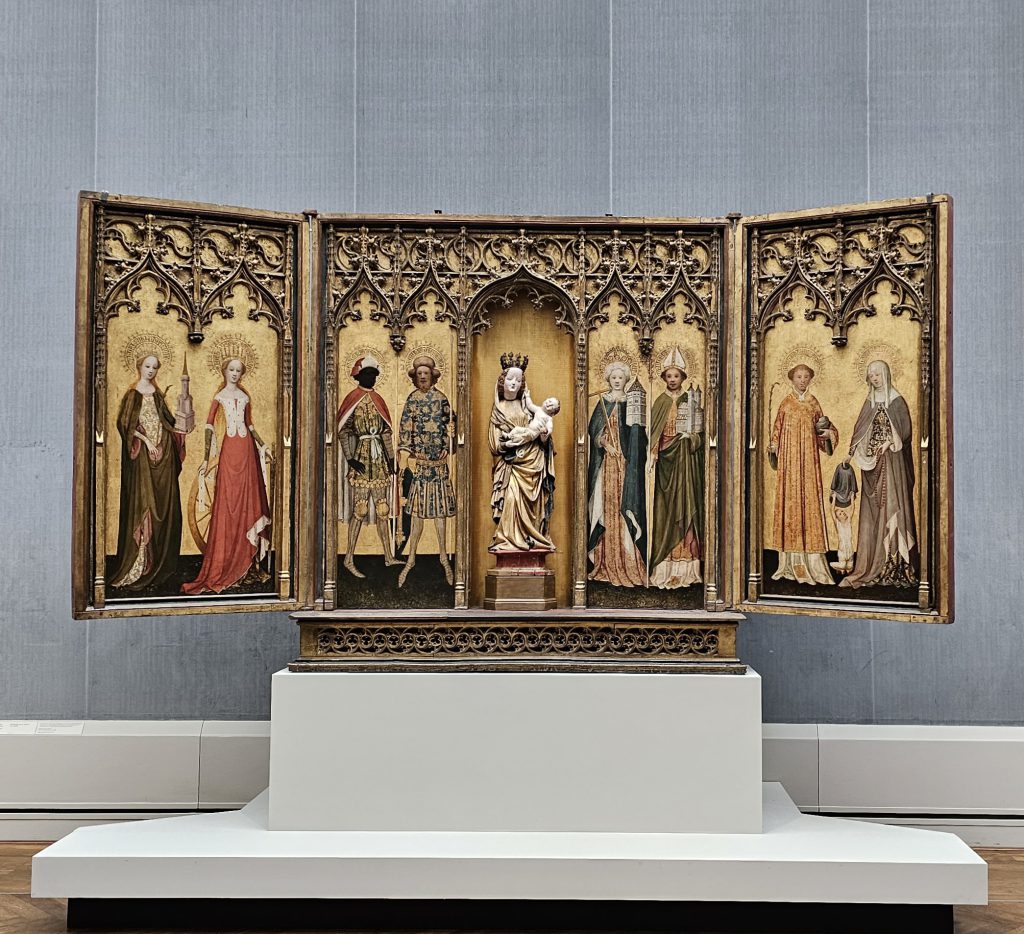 Walking round the gallery's many rooms, I had to remind myself that in the days before the invention of photography and film (and now, social media), most people could not see first-hand what famous people, distant places and popular cultural items looked like. Myths, legends and religious texts were brought to life as large drawings. Even foods and flowers were represented in this medium.
Still life paintings of lobsters, one of my favourite foods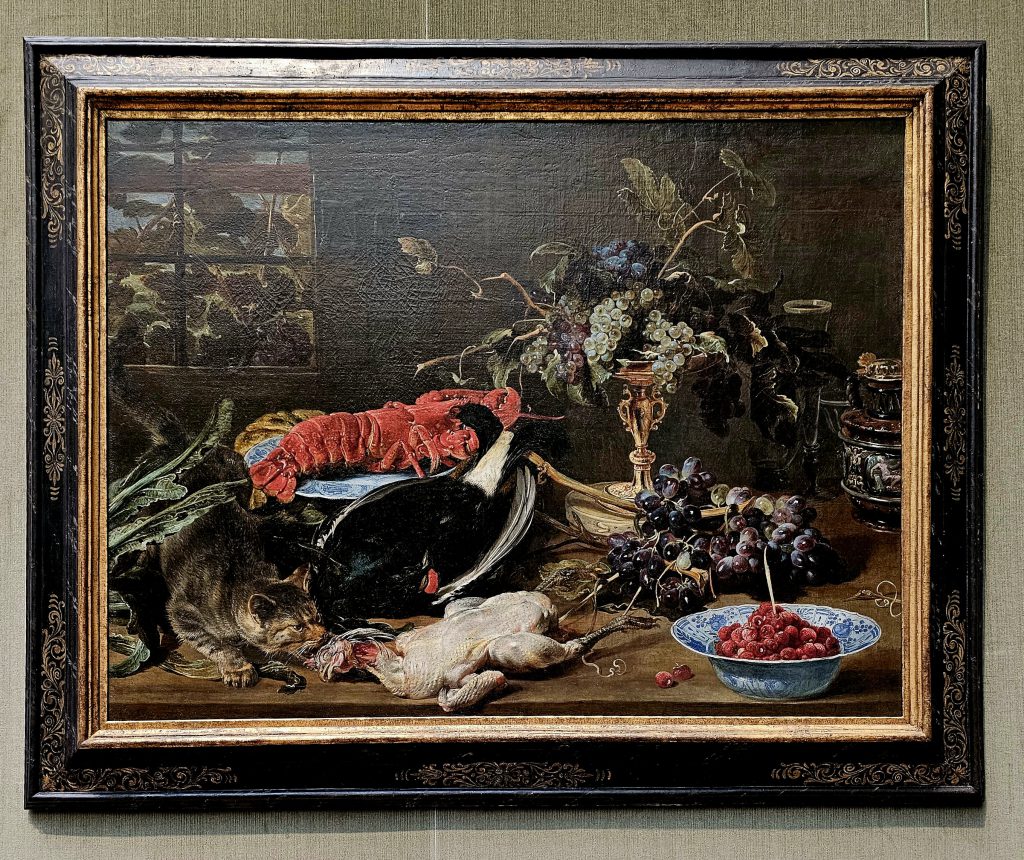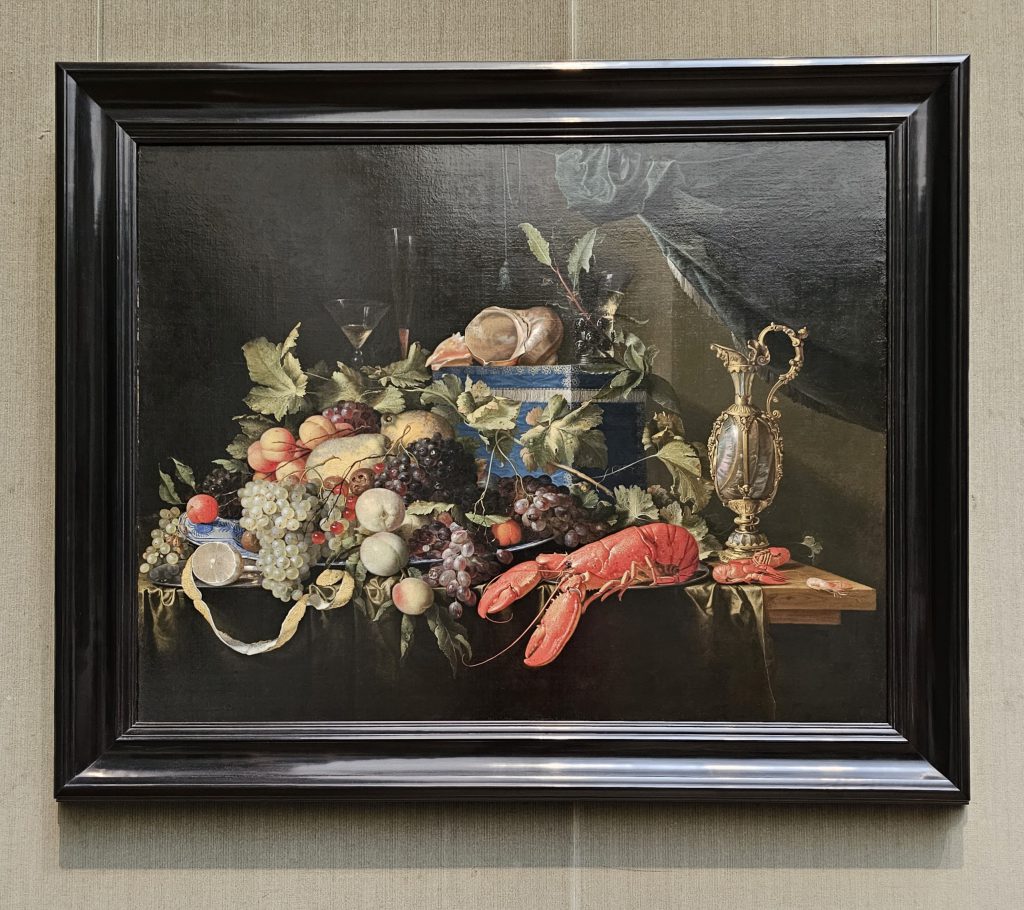 In the same culture complex: Berliner Philharmonie, home to the Berlin Philharmonic Orchestra (top) and a rear view of St. Matthäus-Kirche (bottom)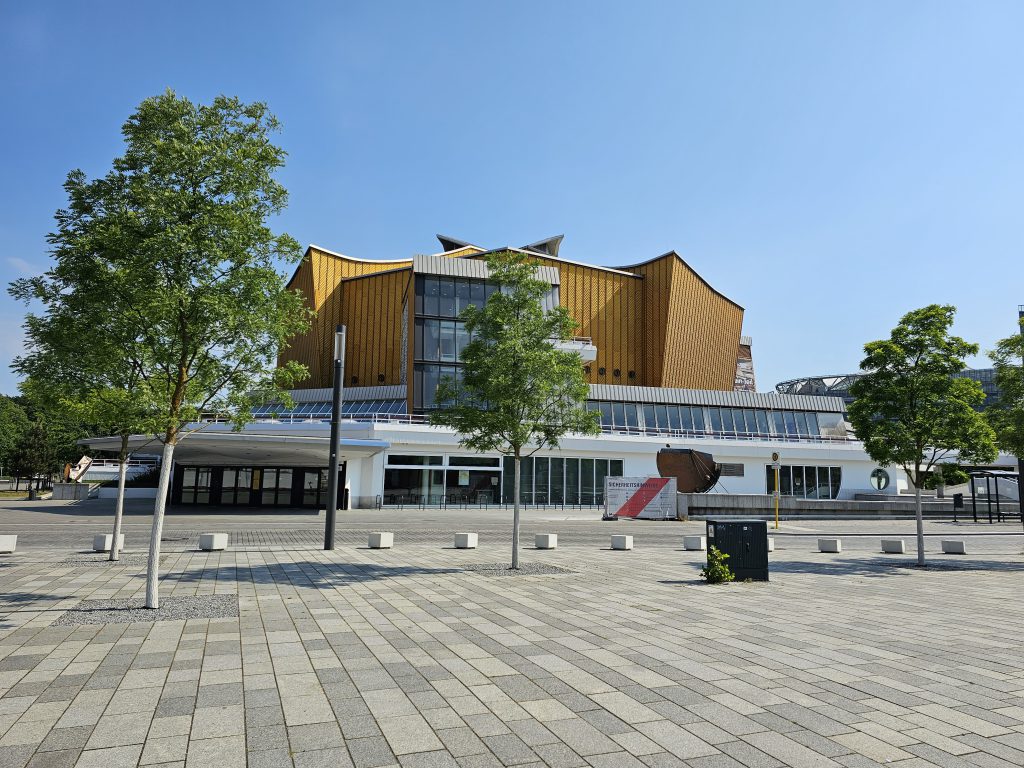 Mittagessen / Lunch
Chipperfield Kantine is the workplace canteen for David Chipperfield Architects. It was not exactly near to the museums we wanted to visit, but it does serve a daily vegetarian lunch. One thing I worried over was my daily fibre intake, and I was not keen on eating street food or pork knuckle and sauerkraut.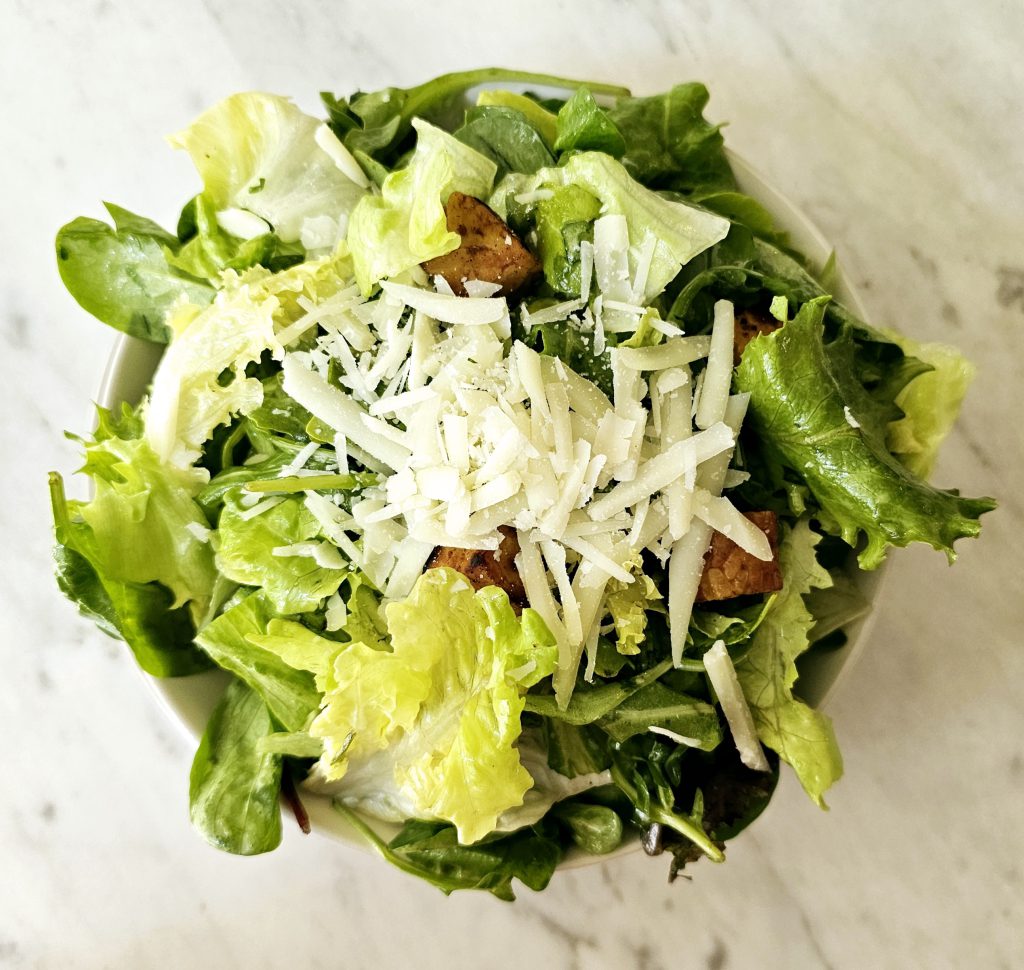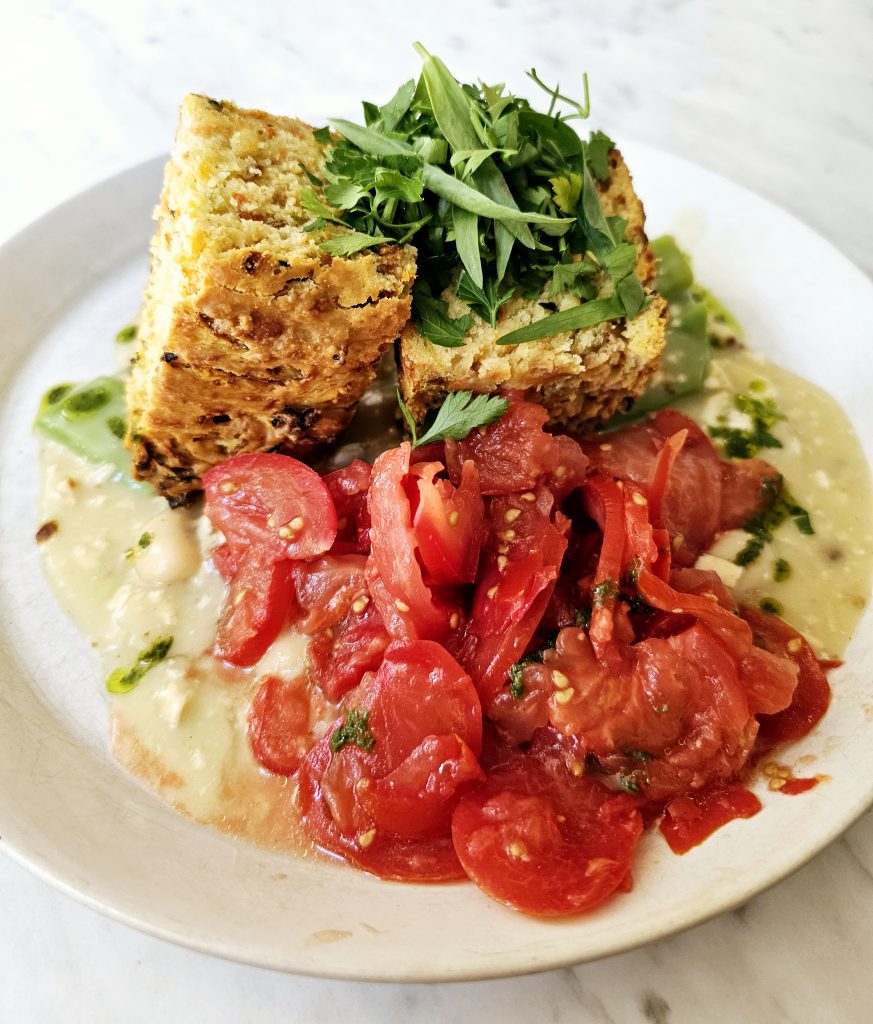 After lunch, we had coffee/ tea and cake nearby. I was actually looking for Black Apron Cakes and read that their cakes can now be found at CODOS coffeeshop. Their two branches in Berlin are at: Rosenthaler Straße 1, Berlin 10119 and at Invalidenstraße 1, Berlin 10115. Since there are many cakes to choose from, plus pastries and cooked egg dishes, anytime is a good time to visit CODOS.
Orange and almond cake by Black Apron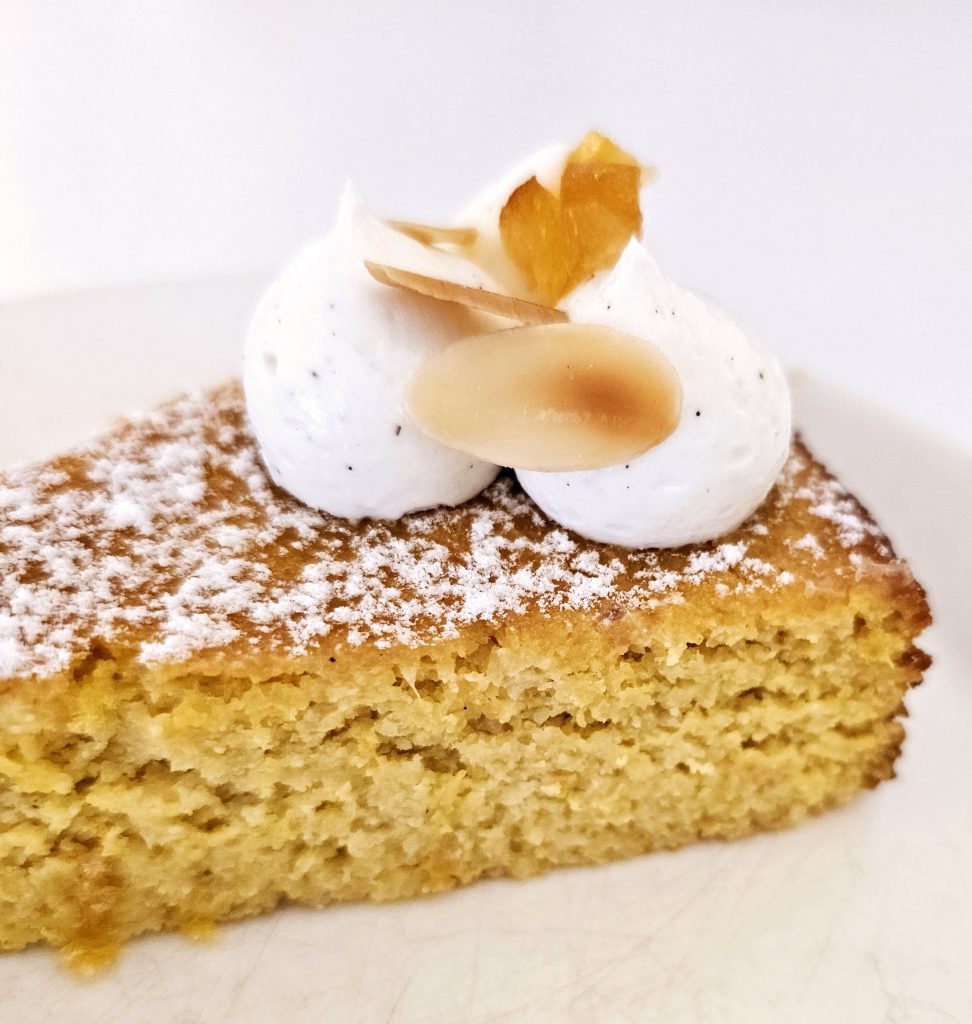 On the wall of CODOS Coffee. Wondering whether this is the average feeling of Berliners towards their city. Even on a very bad day I wouldn't want to say 'I Hate You' to my adopted city of London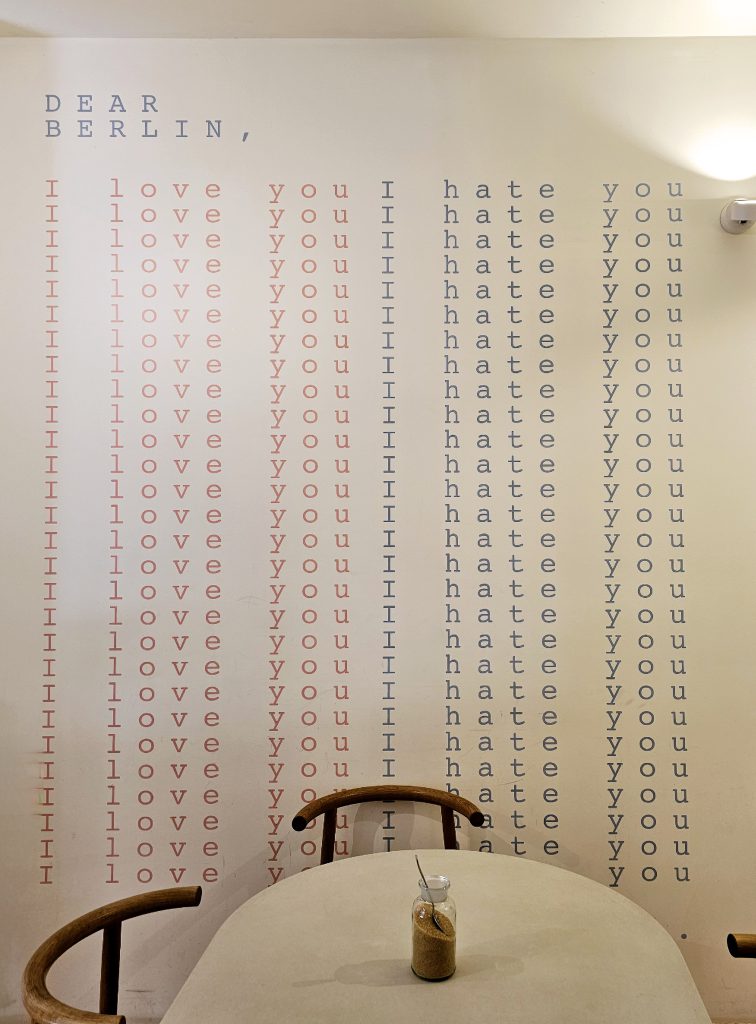 Nachmittagsaktivität / Afternoon Activity
A visit to the main museum on Museumsinsel / Museum Island. The Pergamonmuseum is what every guidebook says is the museum to visit in Berlin. Some say it is the equivalent of the British Museum in London. I would say that they are both unique in their own way, each presenting ancient cultures through the artefacts they have acquired.
I am slightly ashamed at my lack of ambition and creativity: granite to me means one thing only i.e. kitchen worktops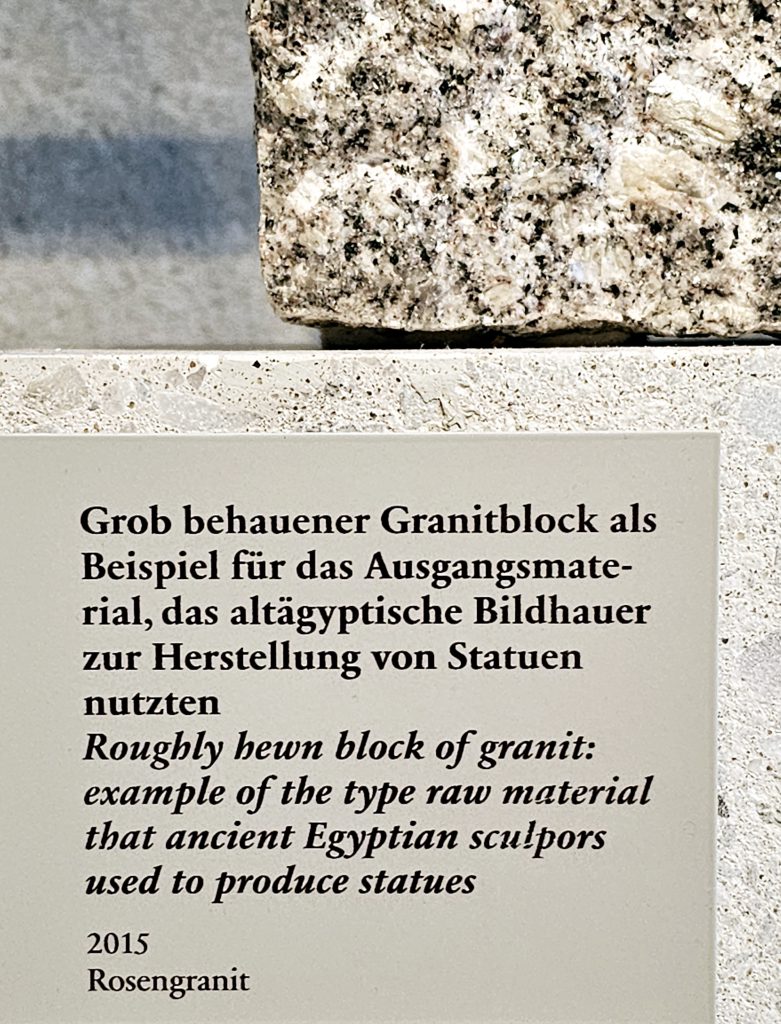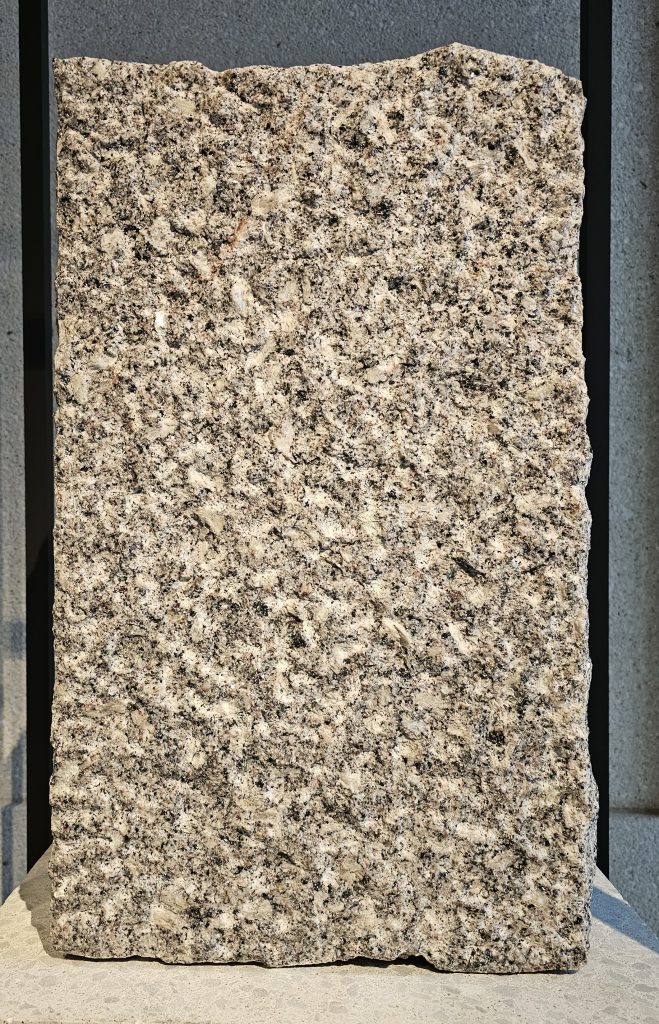 Currently, the museum's Pergamon Altar and some other parts are closed to the public, but there is still plenty to see.
Reconstructions of Ancient Babylon's Processional Way and the Ishtar Gate of Nebuchadnezzar II. The brick fragments were transported in 500 crates which had to be pieced together to remake individual panels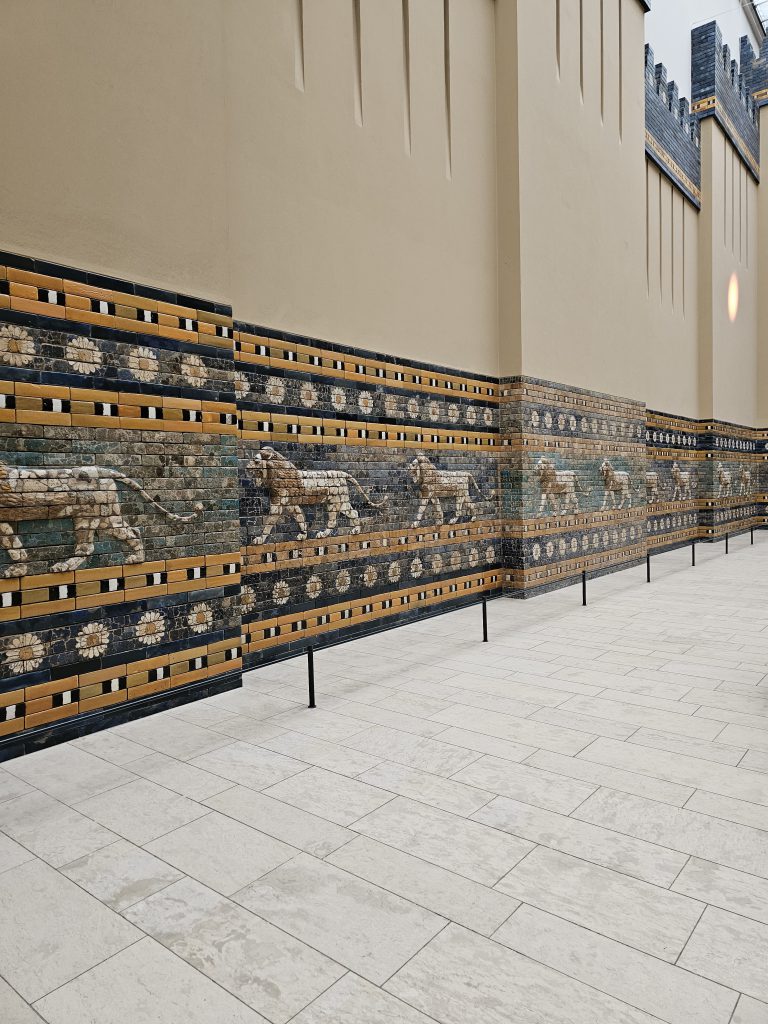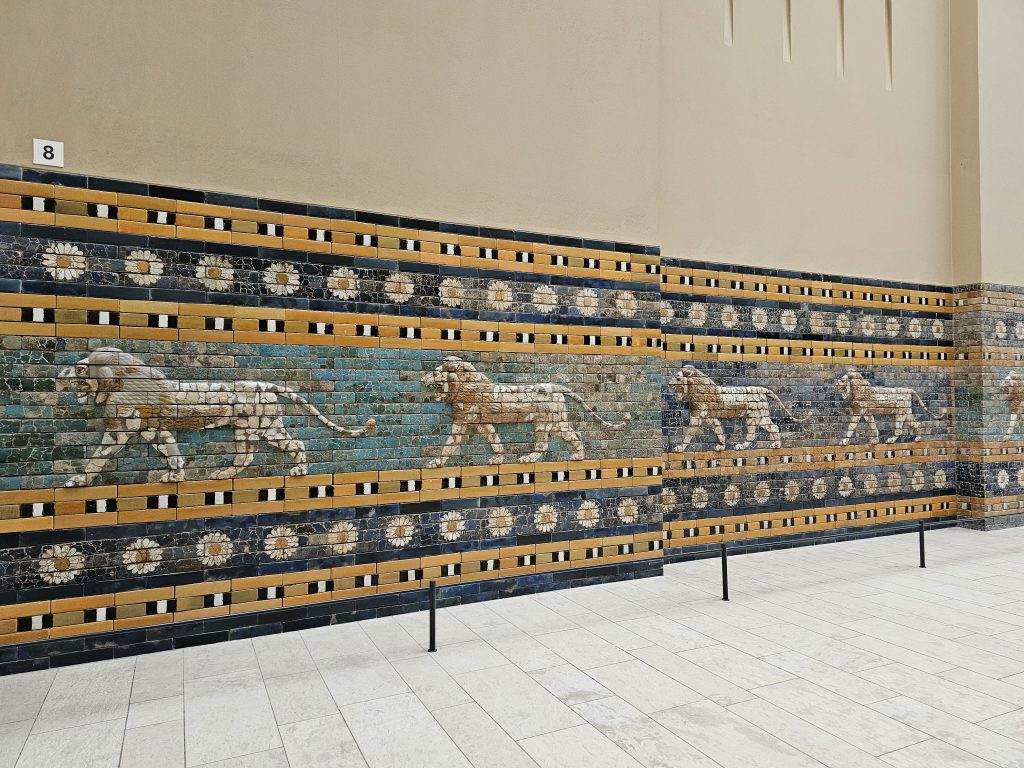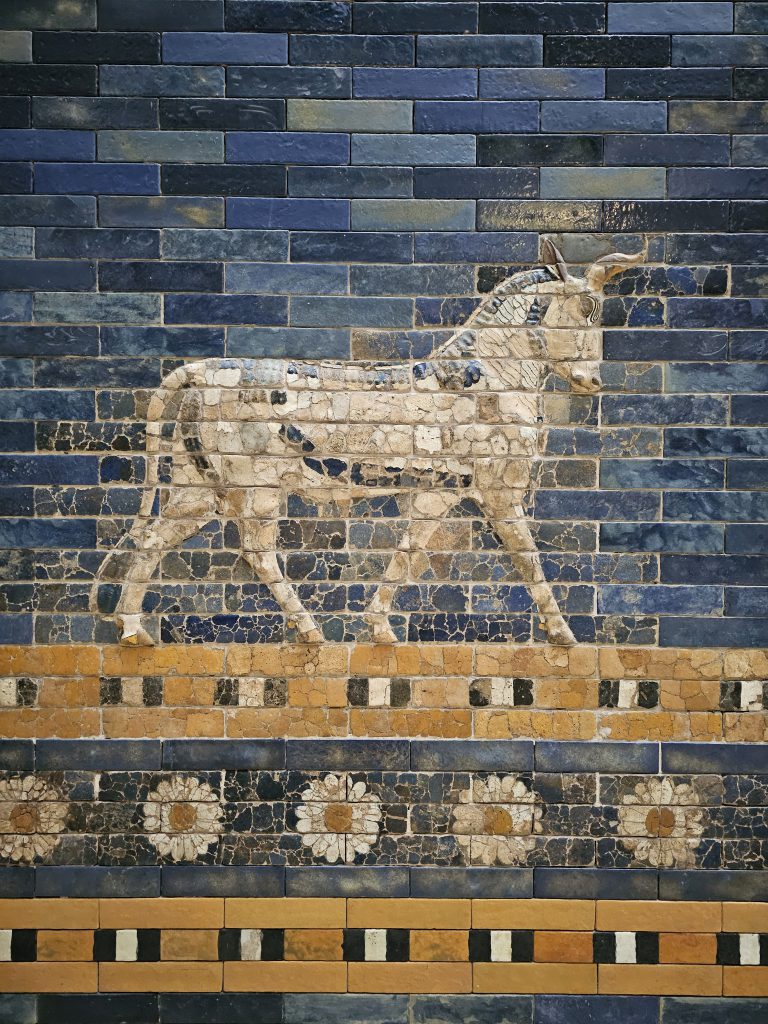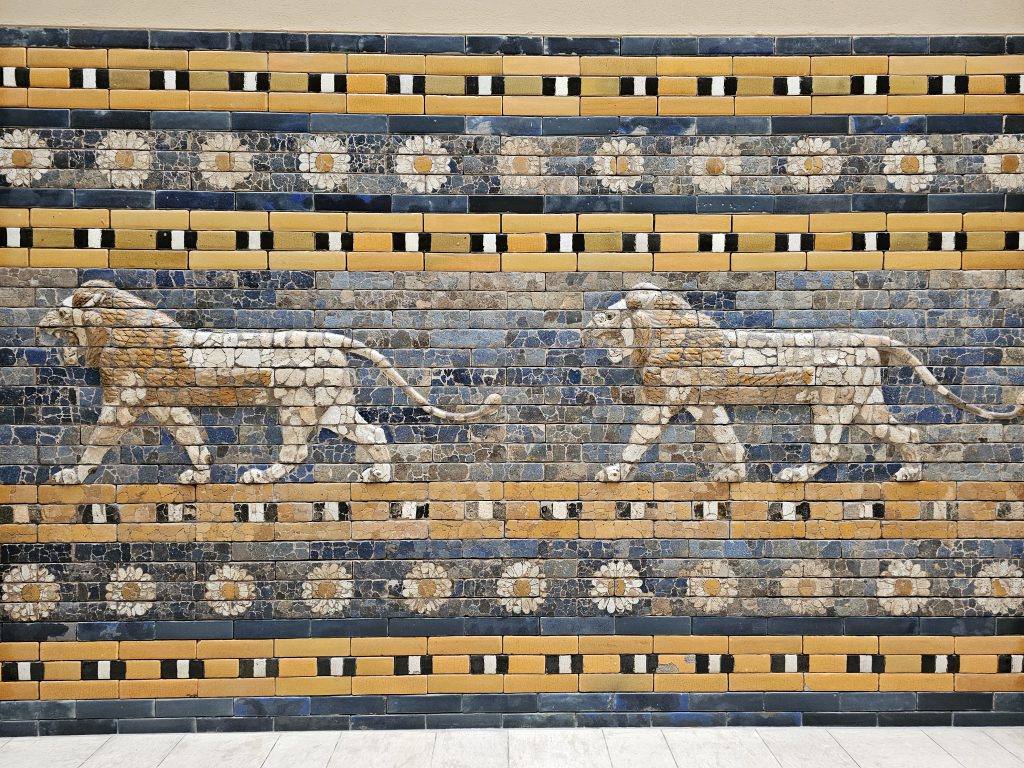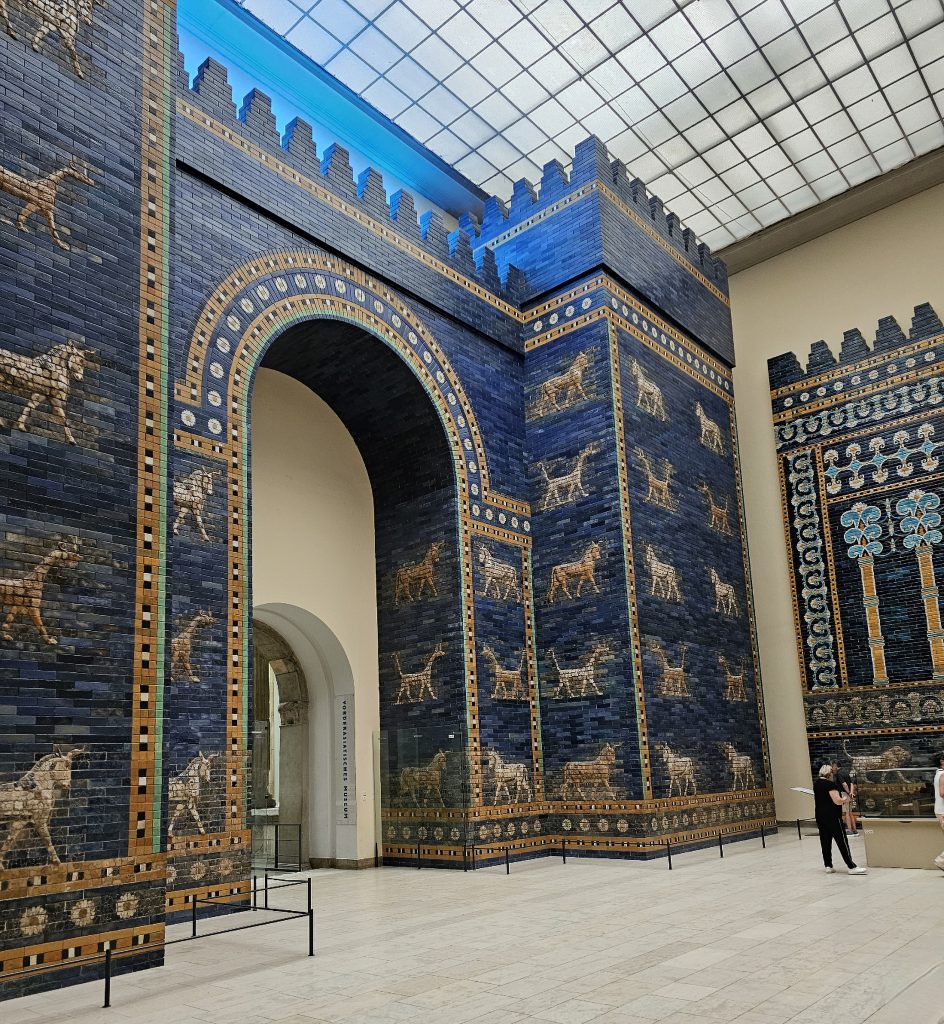 Market Gate of Miletus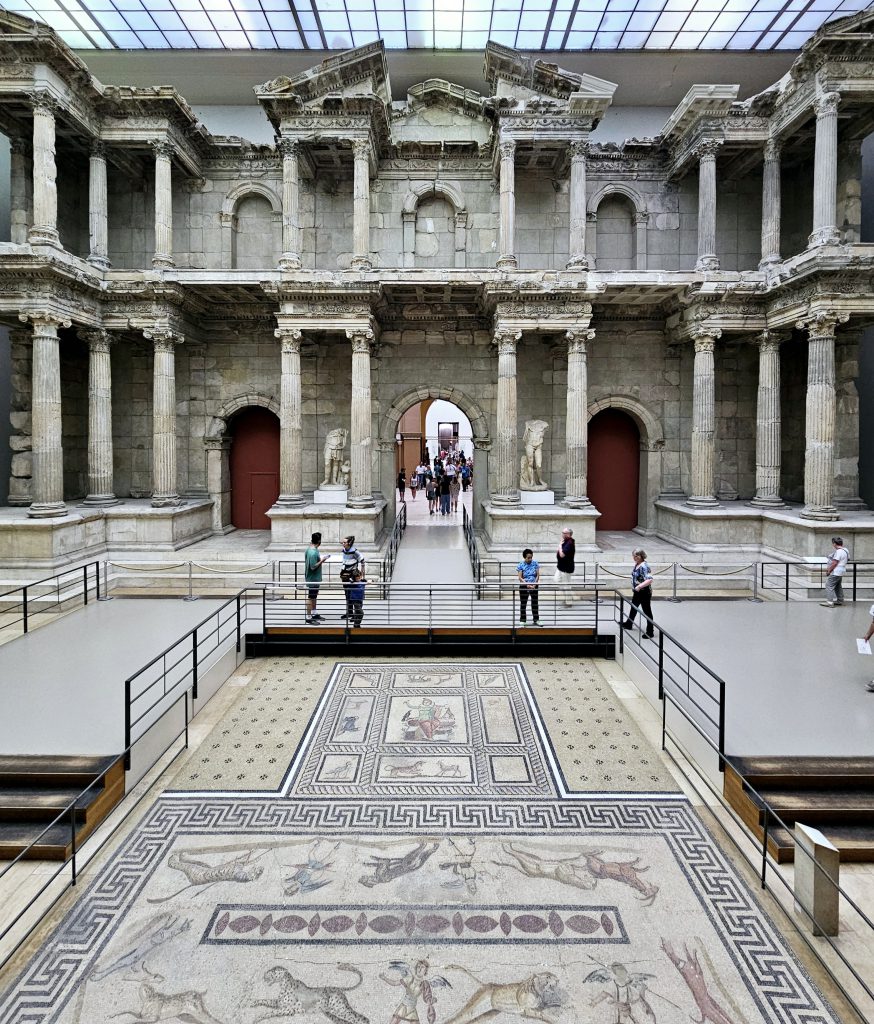 One of the star pieces in the museum: the Berlin Gold Hat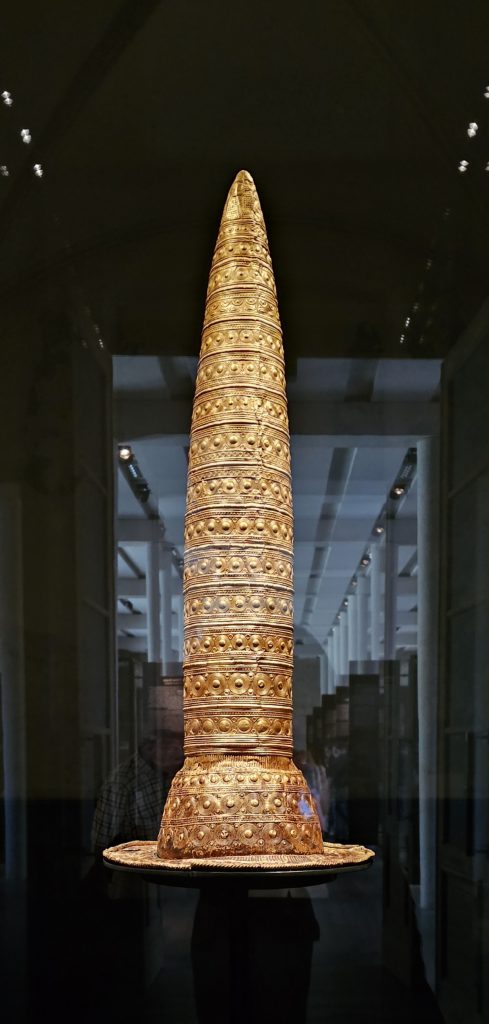 Abendessen / Dinner
Osmans Töchter is a modern Turkish restaurant run by Osman's daughters. Like Night Kitchen (see previous post), the advice is to reserve a table ahead of time. We enjoyed every dish we ordered and ate very well. After dinner we walked to the ice cream shop, because there is always space for ice cream.
Tribeca Ice Cream (vegan), Rykestraße 40, Berlin 10405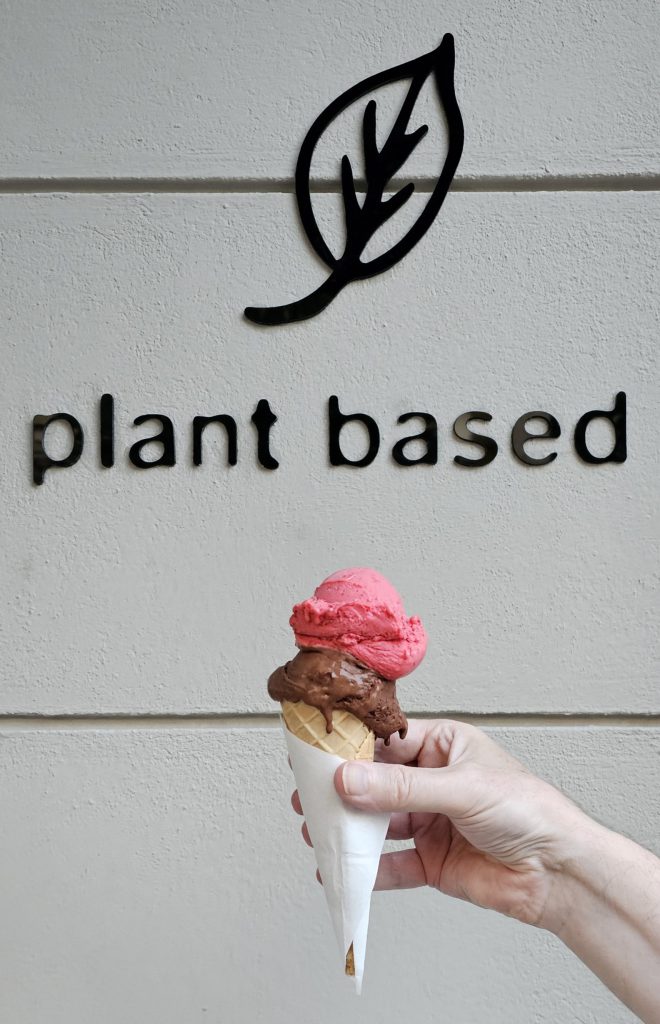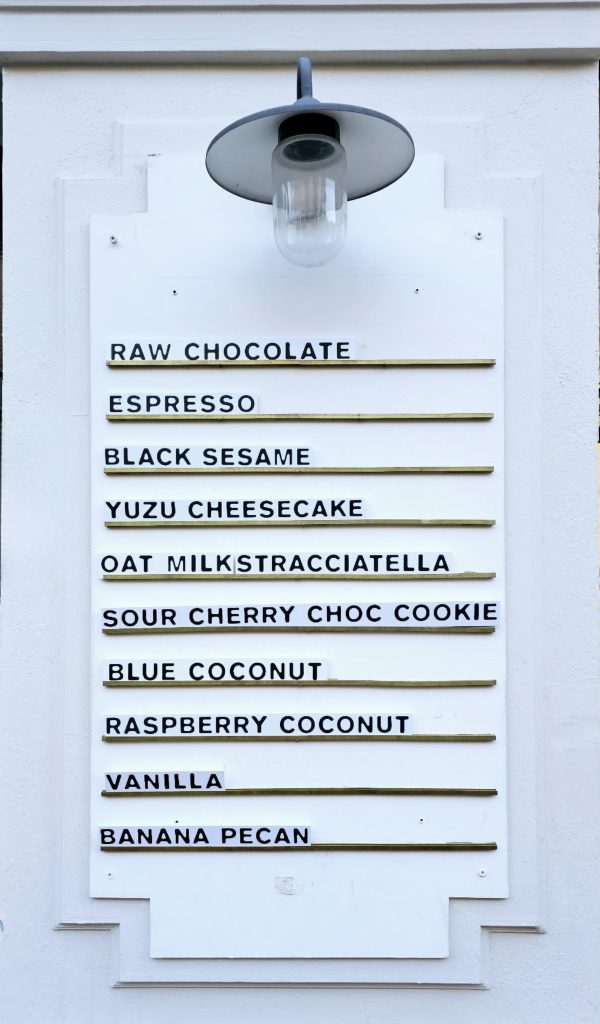 There was a little time and sunlight left to catch the tram to Alexanderplatz before heading back to our hotel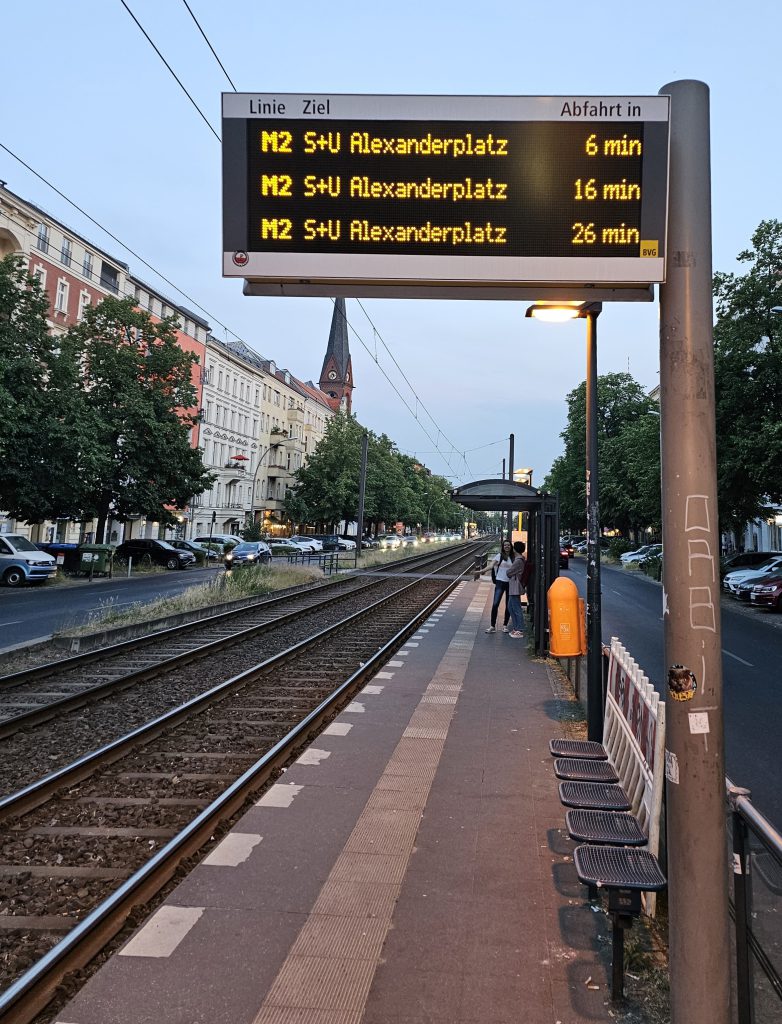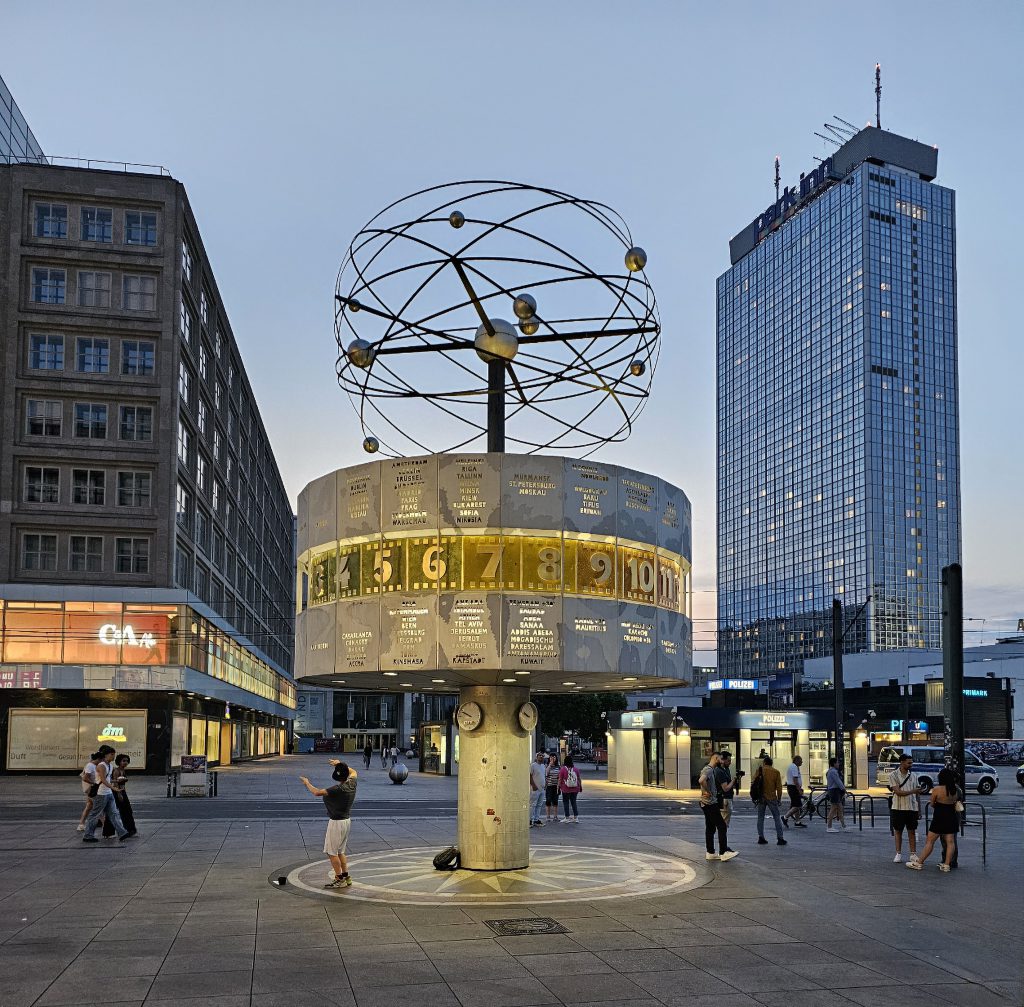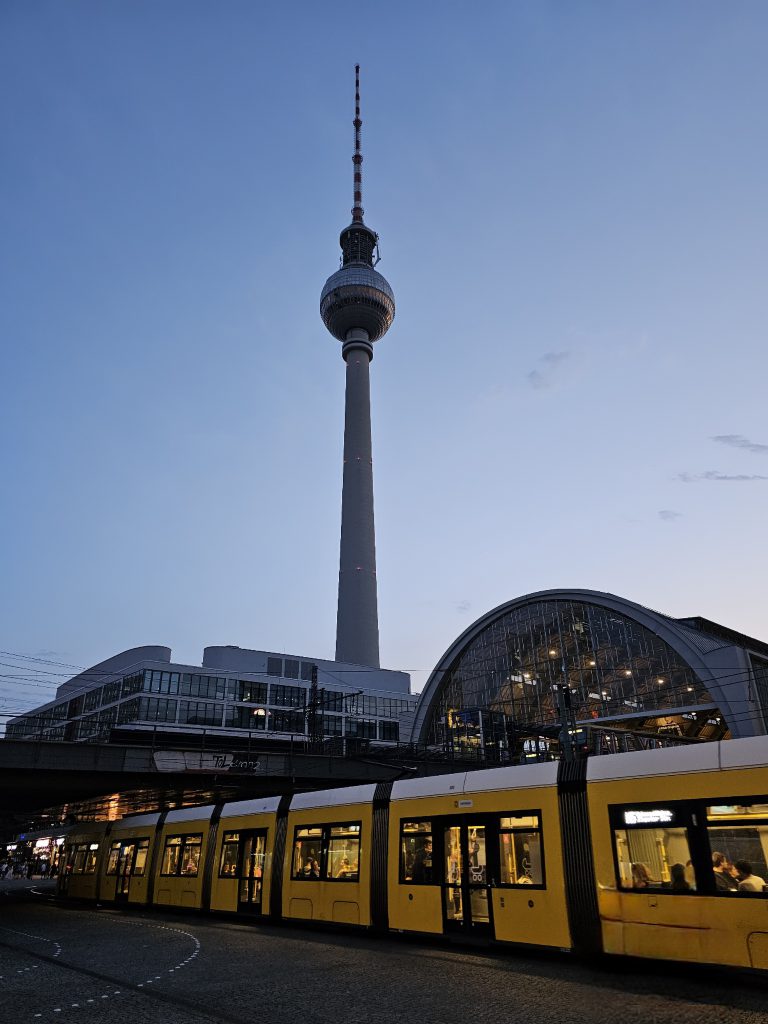 Let's learn some German words!
It is sometimes possible to guess the English equivalent of German words. Here is a mini list of some words I found interesting during my day.
Leben / life
Stillleben mit Hummer und Früchten = Still Life with Lobster and Fruit (the first lobster painting above, by Frans Snyders)
Stillleben mit Früchten und Hummer = Still Life with Fruit and Lobster (the second lobster painting above, by Jan Davidsz de Heem)
Berliner Philharmoniker = Berlin Philharmonic Orchestra
Kirche / church
St. Matthäus / St Matthew
St. Markus / St Mark
St. Lukas / St Luke
St. Johannes / St John
Gemälde / paintings
Galerie / gallery
Gemäldegalerie = picture gallery
Töchter / daughters
Finally, a bonus note because I love lobsters. Homaridae is the scientific family name for lobsters. In German lobster = hummer, and in French lobster = homard. According to my Chamber's Dictionary, the English word lobster comes from the Anglo-Saxon word loppestre, related to Latin locusta / locust. You don't need to remember any of this etymology, just the different words for lobster in any given language.