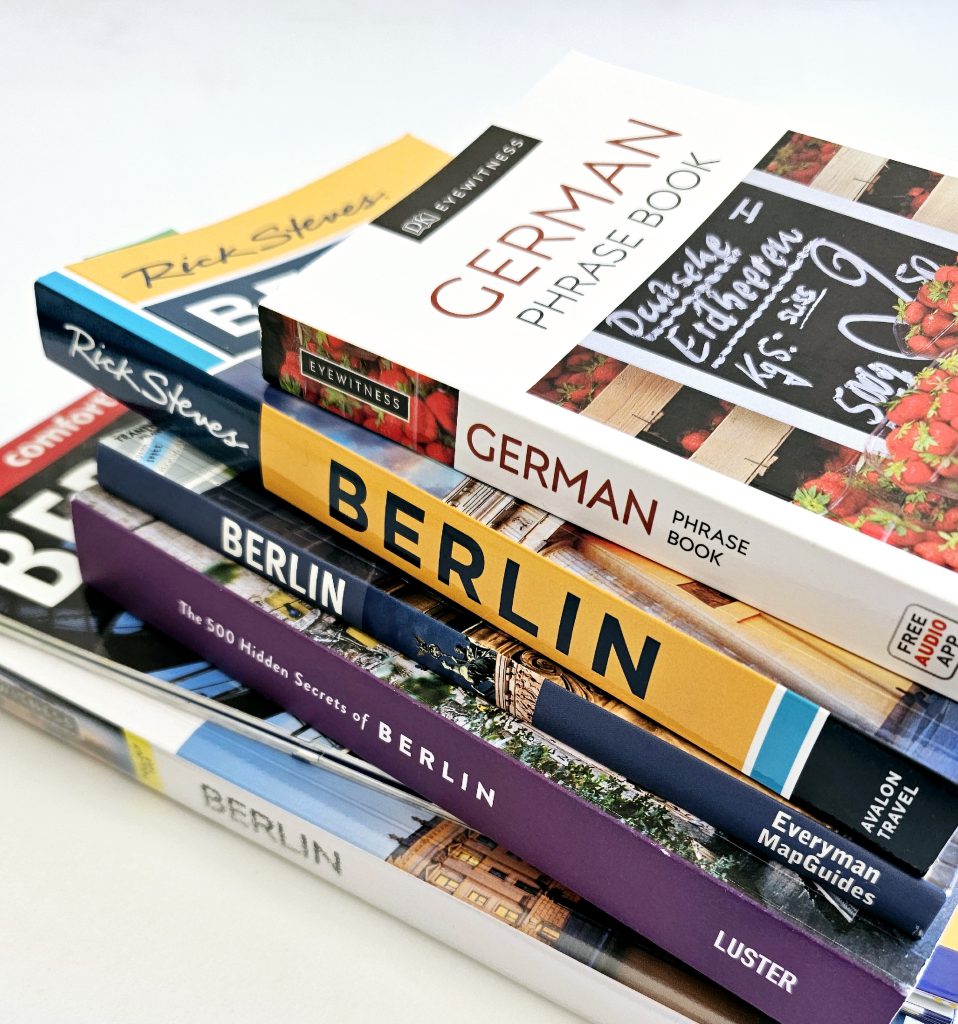 I have been thinking a lot about our forthcoming four-day trip to Berlin. We are squeezing this in between visits from overseas friends, and regular work and family commitments. From the reading I have done there is so much, maybe too much, to see and do in Germany's capital. I naturally made a spreadsheet (thinking of you, LSE Boy) to help split the days into manageable chunks, with sit down dinners at the end of the day.
I am still figuring out whether to try Berlin's famous Currywurst because I am not keen on street food and sauces dripping down onto my clothes. My back up plan, if I miss this, is to have it at German Gymnasium back in London.
There are various transport and sightseeing discount cards, and this is an excellent article explaining the differences between the Berlin Welcome Card and the EasyCityPass Berlin. We are using the former for our trip (only for the transport element).
The only timed tickets we needed to book ahead were to the Reichstag, home to the Bundestag (German Parliament).
This is a summary of the resources I used. I want a holiday with plenty of history, walking and eating, and thought I should make a list for any future trip, as well as a go-to guide when I am in Berlin itself.
Useful tourist information websites:
Citymapper Berlin to get you from A to B by public transport
Staatliche Museen zu Berlin (Berlin State Museums). Berlin's national museums are closed on Mondays. Every first Sunday of the month is Museum Sunday in Berlin, and most museums have free admission then. I found a museum that had free entry on Thursday afternoons courtesy of a corporate sponsor, so do look out for such information on individual museum websites. Some of the exhibits and rooms might be closed for restoration work, and it's best to take a chilled attitude to this.
We cannot see every museum and have decided to limit ourselves to the ones covered by the Museum Pass Berlin. Download and print the list here before you travel, as it has opening times and transport information. At-a-glance list of the 30 museums covered.
I am big fan of Rick Steves and here is his suggested itinerary of Berlin.
The Michelin food guide currently lists 80 recommendations in Berlin. How many days do you have?
For young people i.e. those under 30 years of age, Gina Goes To is right up your street. I am using the list in Gina's Berlin City Guide for breakfast and cafe recommendations.
Guidebooks I used to plan this trip:
If you live in London, Stanfords in Covent Garden specialises in maps and travel books. Otherwise, their website lists a wide selection of books and maps for any country you can think of.
500 Hidden Secrets of Berlin by Nathalie Dewalhens, published by Luster, ISBN 978 9460583087
Rick Steve's Berlin by Rick Steves, published by Avalon Travel, ISBN 978 1641714754
DK Eyewitness Berlin, published by Dorling Kindersley, ISBN 978 0241612712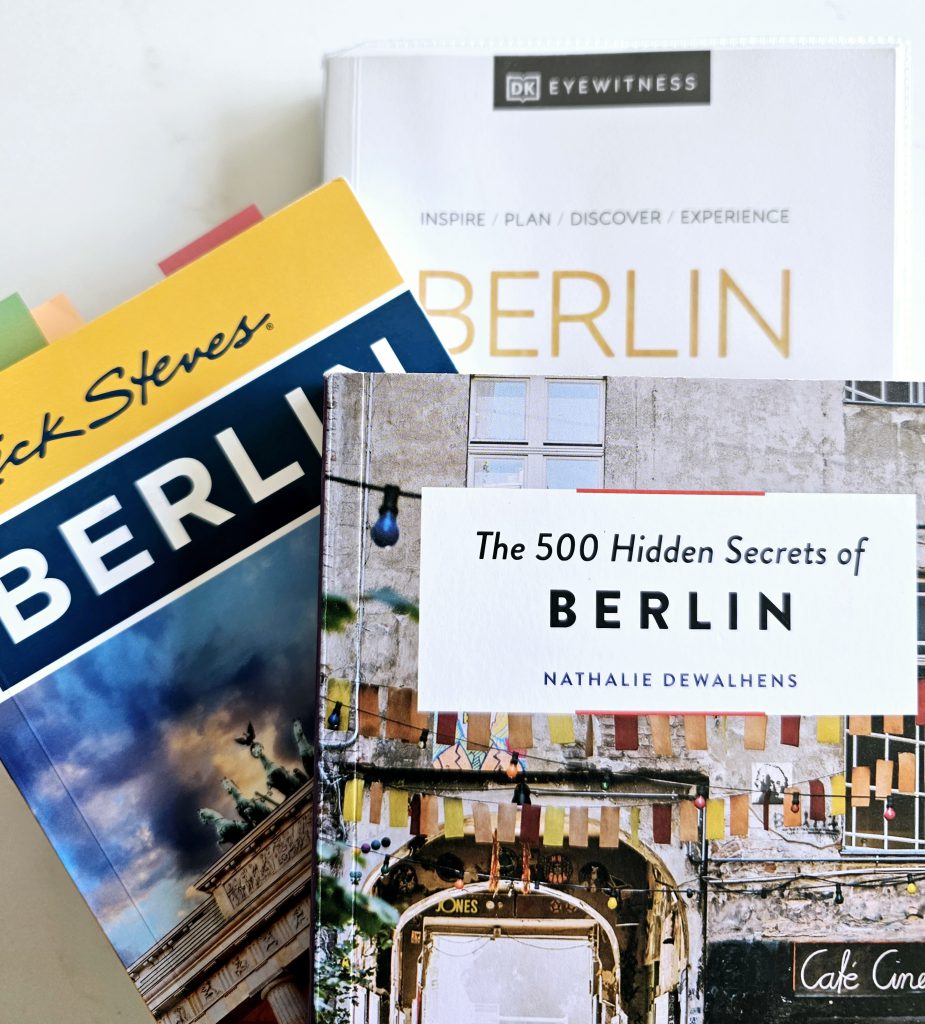 Maps, which came before Apps:
Everyman Mapguides Berlin, published by Everyman Citymap Guides, ISBN 978-1841595696. I have several maps from this series as they are easy to fold out page-by-page and mark with the places you want to visit.
comfort! map Berlin Map, published by ExpressMap, ISBN 978-8380464117. Useful because of the laminated finish and the line showing the demarcation between (the previous) East and West Berlin.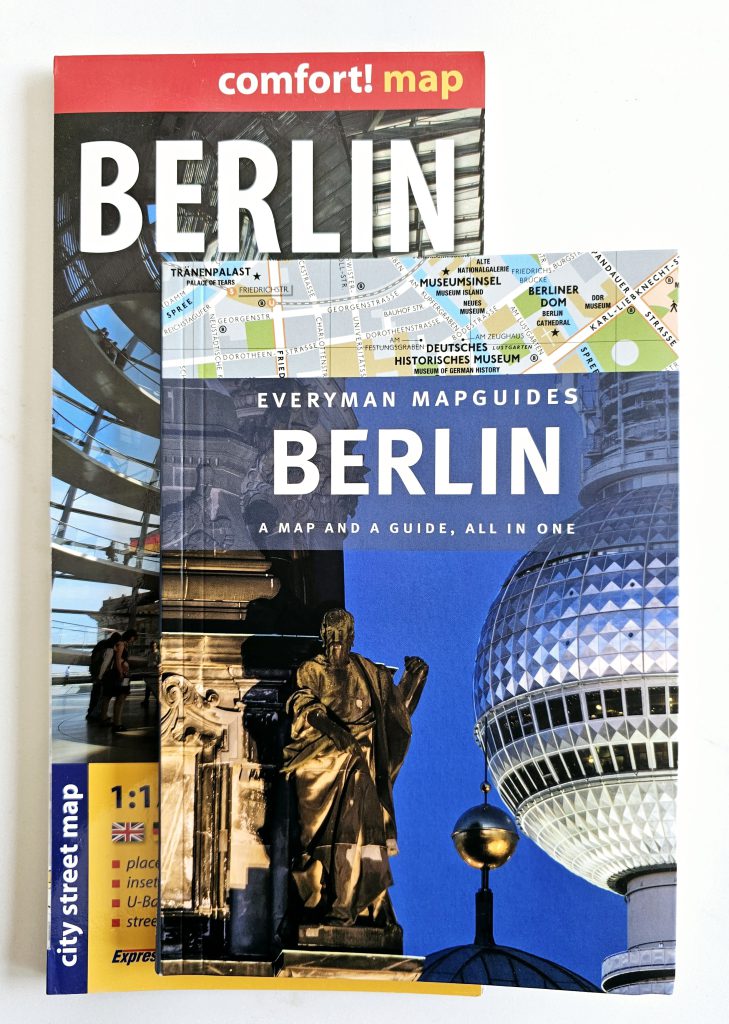 A personal reading list to enhance your visit to Berlin and to engage with some aspects of Germany in World War II (in order of publication date):
The Spy Who Came in from the Cold by John le Carré, published in 1963 and still available in various formats.
Strangers on a Bridge: The Case of Colonel Abel by James B. Donovan, published in 1964 and still available in various formats.
Munich and Fatherland by Robert Harris.
The Boys in the Boat by Daniel James Brown is out of print but used copies are available. I thoroughly enjoyed this book as it covered topics I could engage with: world recession, rowing, education, dedication to a craft, family ties and how to overcome poverty with determination and vision.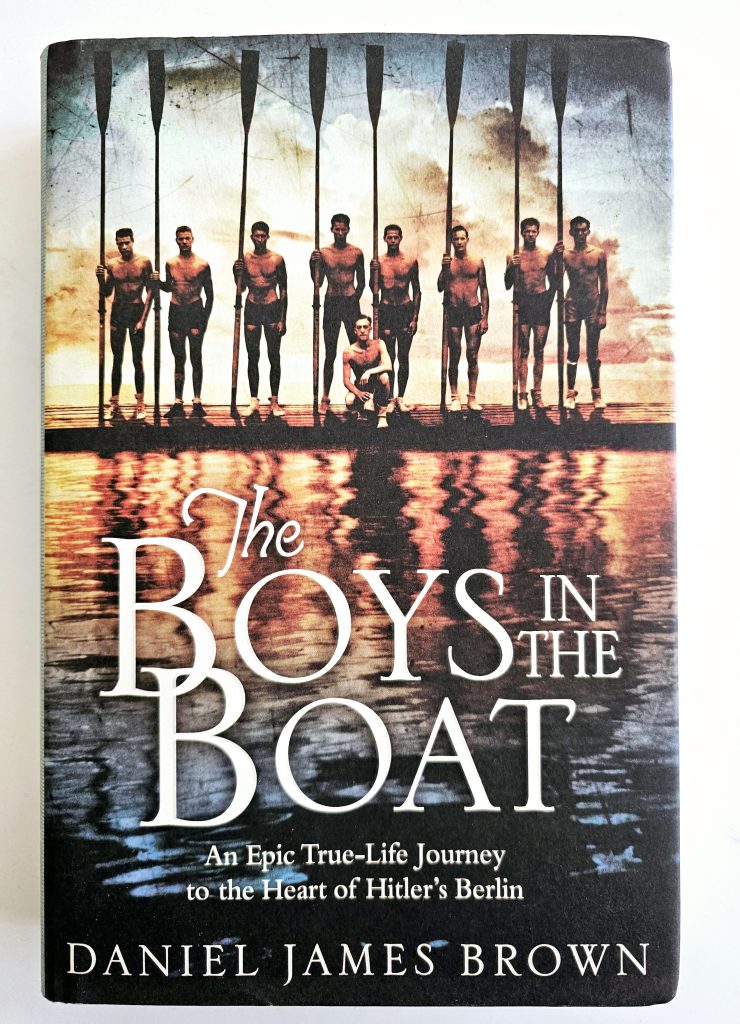 A selected list of films set in Berlin or on aspects of Germany in World War II, some based on the books above (in chronological order of the the time it is set in):
Never Look Away is inspired by the life of contemporary German artist Gerhard Richter, whose exhibition of 100 works is in Berlin's Neue Nationalgalerie until 2026.
Selected reading on the Protestant Reformation:
Wittenberg lies 88 kms south of Berlin, about 45 minutes by direct train from Berlin's Hauptbahnhof (Central Station). Officially known as Lutherstadt Wittenberg to mark its association with Martin Luther, this is where the Protestant Reformation began in 1517.
Each year the town hosts two Luther-themed festivals: Reformation Day on October 31 and Luther's Wedding. The latter is held on the second weekend in June, when we will be in Berlin. We may not have time for a side trip and if we do, it should be to Potsdam, where the Potsdam Conference of 1945 was held. The background reading to the Reformation is very interesting because it effectively split Christian religious practices in Europe into Protestant North and Catholic South.
The Unquenchable Flame: Introducing the Reformation by Michael Reeves, published by Inter-Varsity Press, ISBN 978 1 84474 3858
Rick Steve's Berlin (see above) has a very readable section on Luther, Wittenberg and the Reformation (pages 348 – 373)
A History of Christianity by Diarmaid MacCulloch has a scholarly chapter on Luther, the Reformation and Reformed Reformation (sometimes called Calvinism). Published by Allen Lane, ISBN 978 0713 998696 (chapter 17, A House Divided, pages 604 – 654).
Mind your Language:
Finally, a German phrase book to learn some basic words. However I really am glad that English is widely spoken in Berlin. Most of the websites have pages in English. DK Eyewitness German Phrase Book, published by Dorling Kindersley, ISBN 978 0241289372. I have mainly been reading the Menu section so far…